A government initiative has brought dramatic change to a semi-rural area between Soshanguve and Ga-Rankuwa, to the north-west of Pretoria.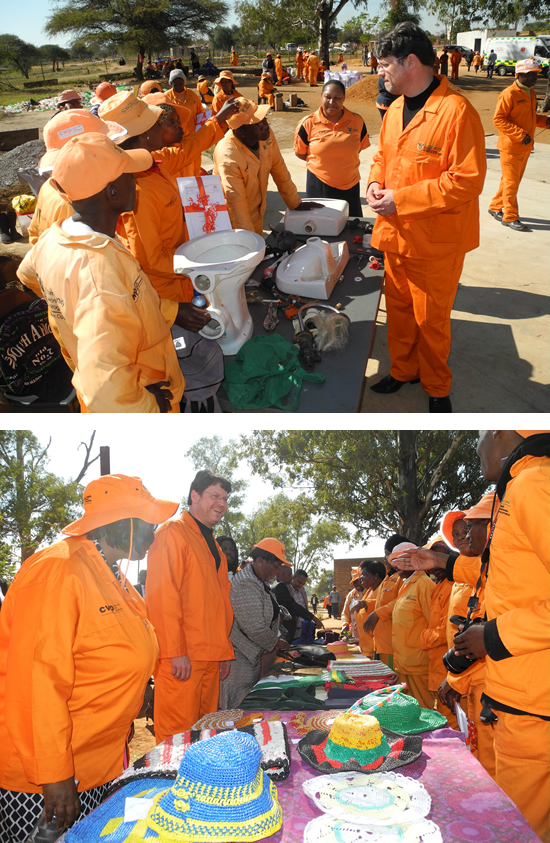 Thanks to the Cooperative Governance and Traditional Affairs' (CoGTA) Community Work Programme (CWP), Erasmus residents have had their dignity restored and hope renewed.
The CWP provides a job safety net for unemployed people of working age. It provides a bridging opportunity for unemployed youth and others who are actively looking for employment opportunities.
In 2009, Erasmus residents sent a delegation to Bokfontein, which was the site of one of the first CWP initiatives, to find out how to become part of the programme. At the time, Erasmus was part of the North West Province.
The programme kicked off in Erasmus with 500 participants. Within a year, 1 000 people were involved, with 20 coordinators, two administrators and a storekeeper.
Dramatic changes were soon visible in the community. Most young people had left home to look for work in Johannesburg and Pretoria, becoming part of these cities' vast pool of unemployed youth. With the launch of the CWP, they came home to take up the work opportunities offered.
At first there was inter-generational conflict, with the youth accused of disrespecting their elders, but after a careful conflict resolution process, harmony between the generations was achieved and has been sustained.
With the new municipal demarcations in 2011, Erasmus became part of ward 39 of Tshwane Municipality and the CWP was expanded to cover other areas of the ward. By April 2016, there were 1 526 participants and in 2017, there were 2 000.
The CWP helps offset the high rate of unemployment and poverty in ward 39. Although the stipend received by participants is modest, Erasmus stands as a shining example of how the CWP can reform communities.
In June 2016, deputy ministers Andries Nel of CoGTA and Elizabeth Thabethe of Small Business Development, along with representatives from the Tshwane Municipality, handed over certificates to 25 registered cooperatives that had been kick started by the CWP.
The cooperatives are involved in art, sewing, catering, agriculture and construction.
An ultimate aim of the CWP is to see participants exit the programme as entrepreneurs or members of self-sufficient cooperatives.
Word of Erasmus' success has spread even further afield. Also in 2016, senior officials from Botswana visited the community to see for themselves the potential offered by CWP projects.
The officials were part of a CoGTA-hosted workshop that enabled the two countries to share knowledge as part of a long-standing Memorandum of Understanding on local government cooperation.
The visitors were extremely impressed by the CWP and how the community of Eras-mus has embraced it. 
Look what we have done!
One of the first achievements was the construction of a bridge that brought together parts of the community. A longer term project of rebuilding and restoring a school, where most of the older generations received their primary education, has endeared the programme to the whole community. 
Today, residents can look back with pride on their many achievements. A 34 000m² community park was established on what was once an illegal dumping site. It took participants three months to clear and clean the area before they could begin building water channels, braai stands, cement benches, a water fountain and swings for children.
All these were built using limited material that was sourced locally, such as old Telkom poles, sand and rocks. The Recycling Cooperative contributed funds from the sale of recycled goods to buy additional material that was needed.
The Erasmus Tribal Authority has embraced this initiative warmly as it provides a safe and beautiful environment for different activities.
Another CWP environmental project has taken on a life of its own. Pensioners and participants with disabilities were initially helped to start a recycling project. The 50 participants soon started transforming the bottles, plastic and other waste they collect into creative art. Today, the group produces plastic mats, shakers, bead work, curtains, pillow cases, wool shoes and bags. The money received from the recycling activities is used to meet some of the needs of the CWP crèches, home-based care and the CWP Centre.       
A booming agricultural sector is another legacy of the CWP. Most notable is a piggery cooperative started by 18 CWP participants who saved a bit of their stipend every month until they were able to launch their project.
In many other corners of the community, vegetables are being successfully grown, thanks to the training given by CWP agricultural specialists who have taught participants how to cultivate the soil and plant and irrigate crops.
As Deputy Minister Nel said, "Erasmus CWP is one of the best sites in the country." He has subsequently cited it in Parliament as an example of a community that is actively using the CWP to improve its residents' lives.