International relations
Young people on the African continent need to appreciate the importance of agriculture in the economy of their countries.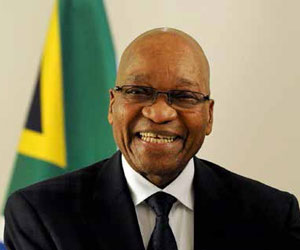 This is according to President Jacob Zuma, who said that agriculture had great potential to unlock sustainable development, food security and job creation in Africa.
He was speaking during a working visit to Equatorial Guinea where he led the South African delegation to the 23rd Ordinary Session of the African Union Assembly (AU Summit) under the theme: "2014 Year of Agriculture and Food Security in Africa".
"An emerging issue identified by the AU leaders was the need for young people to appreciate the importance of agriculture in the economy of their countries," said President Zuma.
The African leaders also noted with concern that women are still involved in subsistence farming.
"Women must take the lead in agriculture and contribute to this growing economic activity, which is vital for dealing with food security," he stressed.
The President said the African Heads of State and Government had also discussed peace and security matters, in particular the mobilisation of resources and the operationalisation of the African Capacity for Immediate Response to Crises (ACIRC).
"In order to respond to crises on the continent, the AU Summit took a decision last year to operationalise the African Capacity for Immediate Response to Crises as an interim mechanism, until the African Standby Force is established."
He added countries that had volunteered to contribute resources to the ACIRC met during the summit. They discussed the state of readiness of the ACIRC.
"It is expected that the ACIRC will be launched by October 2014," said the President.
The Heads of State and Government at the summit also adopted a number of key decisions to improve the socio-economic and political development of the continent, particularly in the areas of education, health, agriculture, trade, women and youth development.
The Assembly stressed the importance of Technical and Vocational Education and Training (TVET) to Africa's development, particularly for youth empowerment, employment and entrepreneurship and adopted the 10-year AU Continental TVET Strategy.
It also welcomed the progress in post-conflict reconstruction and development and peace building processes in the Comoros, Côte d'Ivoire and Liberia and expressed its satisfaction at the continued positive development of the situation in Madagascar.
The African leaders shared their outrage at the Boko Haram group kidnapping more than 200 young girls in northern Nigeria and welcomed the on-going AU efforts to address terrorism.
They also adopted declarations related to accelerated agricultural growth and transformation for shared prosperity and improved livelihoods; ending preventable child and maternal deaths in Africa; and nutrition security for inclusive economic growth and sustainable development in Africa.
The 24th Ordinary Session is expected to take place at the AU Headquarters in Addis Ababa, Ethiopia, from 30-31 January 2015 under the theme: "Year of Women's Empowerment and Development towards Africa's Agenda 2063".