Moving towards a safer South Africa
Moving towards a safer South Africa
Estelle Greeff
Thu, 05/21/2015 - 08:08
Written by Noluthando Mkhize and SAnews
The South African Police Service (SAPS) has fasttracked programmes aimed at providing new infrastructure and improving those that already exists as it strives to make the country safer. This is in line with the National Development Plan and the Rural Safety Strategy.
Speaking at the Justice, Crime Prevention and Security Cluster (JCPS) media briefing recently, Defence and Military Veterans Minister Nosiviwe Mapisa- Nqakula said new police stations were being built and existing ones maintained in rural areas.
"Six new stations are being built in the North West, Mpumalanga and Limpopo, including Muyexe Village in Giyani, which is a Presidential nodal point.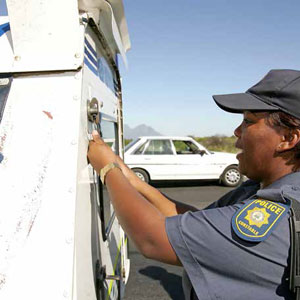 "To ensure that integrated crime prevention and combating strategies are implemented, the Rural Safety Strategy has been fully implemented at 117 police stations countrywide."
The strategy was developed in 2009/10 in partnership with the South African National Defence Force, agricultural unions and the then Department of Agriculture and Land Affairs.
"Special attention is also being given to improve forensics, crime investigations, and prevent crimes against women and children, including efforts to meet competency standards for all trainees in these areas," she added.
Curbing sexual violence
The Minister said government was concerned about reports of sexual violence in the country and continued to identify measures to deal with the crimes.
"As part of our commitment to support victims of sexual violence, 33 regional courts have been upgraded into sexual offences courtrooms."
"Collaborative efforts with the lesbian, gay, bisexual, transgender and intersex groups, civil society organisations and government departments in the JCPS Cluster through a National Task Team, are beginning to yield positive results."
She said 22 of the sexual violence cases had been finalised and offenders sentenced to periods ranging from six years to a maximum of 30 years in prison.
While 11 cases were withdrawn for various reasons including, among others, reluctant witnesses and tracing of perpetrators and victims.
Twenty-three pending cases were receiving urgent attention from the SAPS, with dockets being recalled and re-examined.
Social Development Minister Bathabile Dlamini, who is the chairperson of the Social Cluster, said government continued to implement a number of programmes and campaigns that were aimed at removing all barriers to women empowerment and fighting genderbased violence.
"To deal with the root causes of gender-based violence, the Integrated National Programme of Action, aimed at addressing violence against women and children, is being implemented."
"At the heart of this programme is the yearlong coordinated and comprehensive strategy to transform society's attitudes, practices and behaviours against violence."
She added that the recently launched 356 Days of Activism programme in partnership with civil society, focused on the participation of men and boys, which would promote the collective responsibility of all members of society to play their part in preventing violence against women and children.
"To support and empower survivors of violence, a 24-hour Gender-Based Violence Command Centre was established. In 2014 alone, the centre provided support and counselling to 2 599 distraught callers."
Call the 24-hour Gender-Based Violence Command Centre on: 0800 428 428 or by dialling *120*7867# (free) from any cell phone.