Advice and Events
Meat on the braai, and a cold one on a weekday often goes hand-in-hand with the start of the festive season when having a good time is the order of the day. But that cold one could leave you as cold with horror as its affects.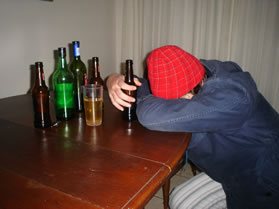 Alcohol abuse is causing the South African economy R9 billion per year as a result of poor productivity, absenteeism, injuries and death.
"Our country is estimated to have alcohol consumption at a score of four on a scale of one to five, with five being the most risky", said the Deputy Minister of Trade and Industry, Elizabeth Thabethe.
In an effort to raise awareness of the dangers of alcohol, the Department of Trade and Industry launched the Sobriety Week Campaign recently.
Liquor industry
The liquor industry contributes around R94,2 billion to the South African economy. However, this industry is strictly regulated with the emphasis on trader's not permitted to sell alcohol to children under the age of 18.
Drinking often starts as early as Grade 8 with the bulk of drinkers falling in the 15 to 35 age group. Registered liquor license holders are therefore urged not to care only about profits, but to adhere to the regulations.
According to the Central Drug Authority's Ray Eberlein, in terms of consumption among South Africans, one person consumes an average of 196 six-packs of beer in a year.
A survey has shown that urban men and women were most likely to binge drink than people in rural areas. Binge drinking is defined as having five or more drinks for men and four or more drinks for women on one occasion.
Crime statistics
Dr Neo Morojele, Deputy Director of the Alcohol and Drug Abuse Research Unit at the South Africa Medical Research Council, said with the festive season comes higher levels of alcohol consumption and abuse, which often has dire consequences. The 2011 crime statistics revealed a 5,5 per cent increase in drunk driving.
"We all have a duty to ensure that our roads are safe and those who break the law will be punished," said Police Minister Nathi Mthethwa.
 "The earlier people stop abusing alcohol, the greater the chance they have of minimising alcohol-related problems and for treatment to work," said Morojele.
Access to treatment for alcohol abuse is available from the South African National Council on Alcoholism and Drug Dependence. Call them on 086 147 2622, or call Alcoholics Anonymous on 0861 435 722.