South Africa's youth are urged to seize opportunities and not give up on establishing their own small businesses. Encouraging young people to persevere, National Youth Development Agency (NYDA) Chief Executive Steven Ngubeni said "it's too early to give up and be hopeless".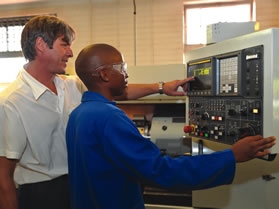 He said youth across the country and in Africa should not fail to grab opportunities and later "cry foul" when they are gone.
Mentorship
Ngubeni said most small businesses were collapsing within a year of establishment because of a lack of mentorship. He was talking to Vuk'uzenzele at an Entrepreneurial Mentorship Programme provided by the NYDA's partnership with Evo Media, which is based in the United States of America.
About 50 candidates from the Western Cape benefited from the mentorship programme, which ran for a few days, before it was moved to Gauteng.
Noli Mini testified at the gathering that her mobile health spa business was running well after she received mentorship from the NYDA. After three sessions of mentorship, she quit her job to pursue her dream.
Business strategy
Mini challenged the NYDA to follow up with entrepreneurs and help them implement their business strategies. She also challenged other entrepreneurs to seek opportunities and not to expect the NYDA to "perform miracles".
Geer Kyle Dennison, a young fashion designer from Johannesburg who recently moved to Cape Town, said that after she received mentorship, three boutiques had now accepted her clothing line.
Western Cape NYDA chairman Ghaliep Essop said young people could rise beyond their poor backgrounds to run successful businesses and move up in life.
Volunteers
Todd Plimpton, a mentor from the US, said he learnt from the people he mentored, adding that mentoring helped him to "reground" his experiences.
According to the NYDA, more than 5 000 young entrepreneurs throughout the country have accessed mentoring offered by local mentors. More than 500 seasoned professionals and entrepreneurs have volunteered to assist young business people.
More than 50 group mentoring sessions had been held countrywide. They covered key challenges affecting small businesses, such as access to funding, business leadership and staff development.
For more information, call the NYDA call centre on 0860 096 884.