A recent anti-crime crusade in Limpopo took the form of site visits to the province's crime hotspots to assess the situation first hand. This will help the provincial government to decide on suitable crime-prevention measures as part of its commitment to reduce crime in the province.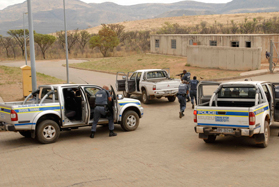 Safety, Security and Liaison MEC for Limpopo, George Phadagi visited Musina, Thohoyandou and Louis Trichardt to see safety-related problems for himself.
Border post
At the Beit Bridge border post in Musina, which is one of nine ports of entry into the province and the busiest in the country, MEC Phadagi looked at issues such as cigarette smuggling and illegal border crossings.
He inspected the South African and Zimbabwean sides of the border post to determine the quality of law enforcement and saw  the Beit Bridge taxi rank and a refugee centre.
Overcrowding
Phadagi found overcrowding and unhealthy living conditions at the refugee centre. The provincial government has given the assurance that the relevant authorities will address these issues immediately.
The MEC also took note of the community's concerns about the high rate of rape, murder, robbery and house burglary in the area.
Alcohol abuse
In Thohoyandou, Phadagi visited Limpopo's Matatshe Maximum Prison and the police station. In Makhando, he paid a visit to the Manini Place of Safety for Children.
Community members told Phadagi that liquor outlets created a problem because they often led to alcohol abuse and irresponsible behaviour, which was the main cause of criminal attacks on residents.
The provincial government has since suspended the issuing of liquor-trading licences while relevant laws are being revised.
To report crime, call Crime Stop: 08600 10111