International relations
The country's new foreign policy aims to create a better life for all by remaining true to the principles of ubuntu. Ubuntu, which means "I am who I am because of or through other people", promotes a culture of serving others for the good of all.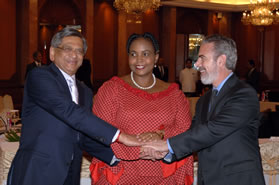 South Africa's foreign policy is due for a major shift, which will embrace the African principle of ubuntu – loosely translated as humanity. The revised foreign policy is outlined in a White Paper issued by the Department of International Relations and Cooperation (DIRCO), which sets out clear guidelines for the way forward.
The white paper was drafted after wide consultation with foreign policy analysts, business and union leaders and civil society. It was approved by Cabinet recently and will soon be considered by Parliament.
A better world
Through the new policy, government strives towards more focused and effective foreign cooperation. "Our struggle for a better life for all in South Africa is closely intertwined with our struggle for a better Africa and a better world for all, said International Relations and Cooperation Minister, Maite Nkoana-Mashabane in this regard.
"These values are ingrained in the South African Constitution and inform our foreign policy and my department's vision," the Minister said.
Key regions
To achieve this, the White Paper outlines how South Africa is to conduct its foreign policy in key regions of the world including Africa, Asia and Europe.
The White Paper points out that South Africa aims to contribute towards the transformation of the global system of governance from a power-based to a rules-based system in a fair and unbiased way to benefit all.
It addresses global issues through international organisations such as the United Nations rather than through individual nations.
Global trends
Reference is made to the setting up of the South African Development Partnership Agency. This will improve international cooperation and the implementation of development and humanitarian assistance programmes.
The White Paper also considers trends in the global system including cooperation with new economic powers, dealing with global warming, the demand for scarce resources and the changing nature of conflict and insecurity.
Meaningful relationships
DIRCO's name change from the Department of Foreign Affairs to that of International Relations and Cooperation in 2009, reflects the department's role in building more meaningful and more open relations and partnerships.
Such partnerships will advance South Africa's national interests to promote economic growth and create a better life for all South Africans.
For more information, call the Department of International Relations and Cooperation: 012 351 1000.