For a long time Tshepo Makwela and his wife were struggling to make ends meet while depending on his salary as a geography teacher.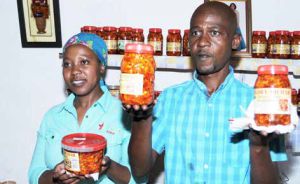 After going through financial problems and 18 years of teaching, Makwela quit his job to start an atchar factory in Flora Park, Limpopo, which he named MacFlora Atchar.
Though the journey has been filled with challenges, Makwela worked hard to improve the situation of his family.
Three years later, he has a thriving business and employs nine locals. He is now supplying Spar in Polokwane and he will be exhibiting his products in Singapore, Poland and India. "When I started this business it was because of the pressure I was under. My wife was not working and we were finding it difficult to cope as a family. We decided to do something about our situation and started making atchar," he explained.
Makwela's business got a major financial boost when the Eskom Development Foundation injected R10 000 into it.
He won the R10 000 after he was named as one of the finalists in the Eskom Development Foundation competition.
Makwela said he is grateful to the foundation for giving his business the platform to do bigger things.
"All along I have been using my bakkie but through the success of the business we have been able to buy a bigger bakkie and a truck. "We will be able to create 70 jobs thanks to a contract with two major shops to supply the whole country," he added.
Makwela's business was also profiled on the television programme Rize Mzanzi.
He said this exposure helped grow his business and he was also invited by the Department of Trade and Industry to an exhibition in Zimbabwe. Makwela will also soon be exporting atchar to Paris.
He said the world of business was very challenging.
"The message for aspiring entrepreneurs is that hard work pays off. I started my business with R800 and today is worth millions because of working hard and the good exposure," he added.