Diepsloot residents welcome Ingonyama Bridge with relief
Diepsloot residents welcome Ingonyama Bridge with relief
lebang
Thu, 04/14/2016 - 08:53
Written by Nthatisi Modingoane
Diepsloot's R76 million Ingonyama Bridge, officially opened by Johannesburg Executive Mayor Councillor Parks Tau recently, has been welcomed with joy and relief by local residents, who have said it will help end the spate of accidents in the area and bring about travel convenience.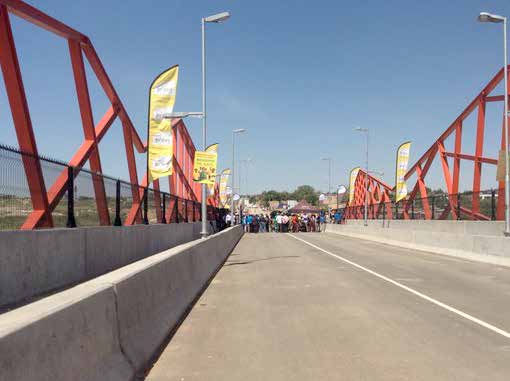 Ingonyama Road is a major access and connector road traversing the township. The bridge, over the Jukskei River, forms part of several multimillion-rand infrastructure development projects undertaken by the City of Johannesburg to bring about social and economic transformation in the area.
One of the residents who were relieved when the 60m-long overhead pedestrian and cycling bridge was officially opened recently was 44-year-old Jeanette Phakathi, a domestic worker at the nearby suburb of Dainfern.
Phakathi daily crosses the busy Ingonyama Road on her way to work and bears testimony to the multiple accidents that have taken place on the road, many of them involving pedestrians.
"I'm relieved that the City of Johannesburg has finally heeded pleas by the Diepsloot community for a bridge. The new bridge will make it easier for everyone. I cannot tell you how relieved I am that we finally have a bridge," she said.
Echoing her sentiments was Jessica Moyo, 38, who said she lost a friend after a speeding car ran over her early last year.
"This goes to show that the City has our interests at heart. It was very difficult to cross the Ingonyama Road on foot. Now we're walking on air," she said.
Sizakele Gumbi, 40, a mother of two, thanked the City for the intervention.
"We have children and you don't know how stressful it was to send them on errands and they have to cross the notorious Ingonyama Road.
"Far too many accidents have happened on this road and what a relief this bridge will bring to everyone. We're very thankful," she said.
Ahead of the opening, Mayor Tau led a walkabout through the township, speaking to locals and assessing the progress development projects in the area. The official opening of the bridge - a project of the Johannesburg Development Agency, an infrastructure development entity of the City - was also attended by Development Planning MMC Councillor Ros Greeff and Health and Social Development MMC Councillor Nonceba Molwele.
"This bridge is an immense economic development enabler for the area," said MMC Greeff says.
MMC Molwele said the new bridge would encourage Diepsloot residents to walk and cycle, which would benefit their health.