Teaching entrepreneurship empowers youngsters
Teaching entrepreneurship empowers youngsters
lebang
Tue, 04/25/2017 - 10:28
Written by Stephen Timm
A nation-wide non-profit organisation's programme is working to create an entrepreneurial culture in schools, with competition finalists gaining entry to a national competition that pays out handsome prize money.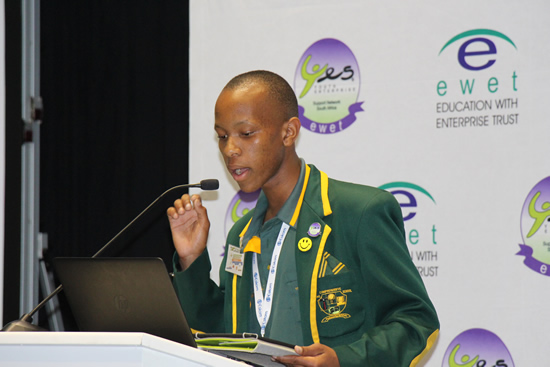 Grade 12 student Thulanyo Motlokwa of Tong Comprehensive Secondary in Ganyesa had his mind set on working for a big company until he took part in a schools entrepreneurship competition.
Last year Motlokwa's school, in the Mahikeng, Ngaka Modiri Molema District, was the provincial winner in North West in the annual Simama Ranta Entrepreneurship Competition.
The Education With Enterprise Trust (Ewet) non-profit organisation runs the Entrepreneurship Education's Youth Enterprise Society Programme and its competition aimed at learners from Grade 8 to 12. It enjoys the Department of Basic Education's support.
Motlokwa and 35 other learners entered in four groups after opting to start manufacturing braai stands, chairs and jewellery. Now Motlokwa says he has his mind set on becoming a motivational speaker and life coach.
He says the competition was one of the biggest events his community has had and that parents were very supportive of him and fellow learners, taking them to school early or fetching them in the night after they had worked on their projects.
The learners are using their R50 000 prize money to buy materials for their businesses and have discussed setting up a cooperative and starting other types of businesses.
Accompanying the competition, which was started in 2010, teachers are trained as programme facilitators so that they can provide theoretical instruction in entrepreneurship.
Ewet chief executive Arie Bouwer says the programme aims to create a culture of entrepreneurship in schools. Learners have started food gardens, tuck shops and even a business making cooking fuel from cow dung.
The programme received R5.3 million in donations last year, mainly from the Eskom Development Foundation, the Absa Foundation, MTN and Nelson Mandela Children's Fund.
In all, 3 200 schools were targeted during the competition in 2016, of which 195 submitted entries in line with the requirements, which include having to produce evidence of their entrepreneurial projects.
The national winners along with 27 provincial finalists are also given the opportunity to participate in the Youth Entrepreneurship Simama Ranta Expo which is linked to the Small, Micro and Medium Business Expo held by Eskom in Johannesburg every year. 
Finalists receive cash prizes of between R10 000 and
R100 000 which must be used by the learners' clubs to further their entrepreneurial endeavours.
Following the competition those who want to further their businesses are referred to business service providers for more assistance."