Cecilia Makiwane Hospital gets a facelift
Cecilia Makiwane Hospital gets a facelift
Estelle Greeff
Thu, 10/12/2017 - 08:12
wriiten by Neo Semono
The community of Mdantsane, Eastern Cape will now experience better health services.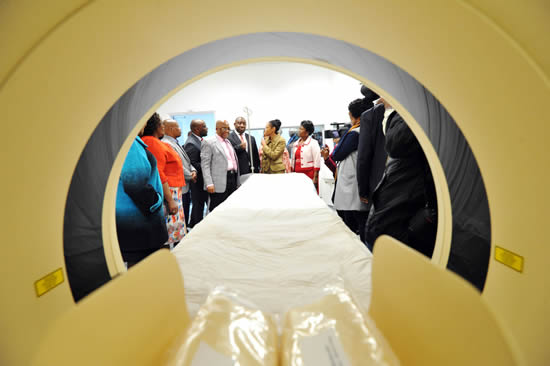 Deputy President Cyril Ramaphosa recently unveiled the new wing of Cecilia Makiwane Hospital near East London in the Eastern Cape.
The new wing is expected to  improve access to healthcare for people living in and around Mdantsane.
"It is a facility that will allow us to expand government's e-health strategy by providing advanced clinical support to rural areas. These investments in infrastructure, technology and innovation will contribute significantly to improve the health outcomes for the people of Mdantsane and the region," said the Deputy President. 
He said investments in infrastructure to the tune of R1 billion would support local economic development in the townships.
"They will also support local government efforts to improve community infrastructure. As we revitalise public health infrastructure, we are also expanding opportunities for local communities to improve their lives through job creation and local enterprise development."
The 526-bed hospital is supported by an integrated system that will ensure that patients get efficient and quality healthcare. The integrated system, which uses technological innovation, will cut down patient waiting times, improve diagnosis and improve health outcomes.
The hospital will provide support to districts and maternity units through telemedicine and outreach programmes run by specialist teams.
"This state-of-the-art health facility is a victory in our people's cause to build a united, equal, non-racial, non-sexist and prosperous society," said the Deputy President. 
The hospital is named after South African nursing pioneer Cecilia Makiwane, who was South Africa's first professional black nurse.
In her honour, 15 years ago government  introduced the Cecilia Makiwane Nurses' Recognition Award for distinguished healthcare professionals. As both a teacher and nurse, Makiwane chose vocations where she would make her greatest contributions to the betterment of people's lives.