ROLE MODELS
ROLE MODELS
sadmin
Tue, 08/26/2014 - 15:52
ROLE MODEL
THERE IS POSSIBILITY BEHIND DISABILITY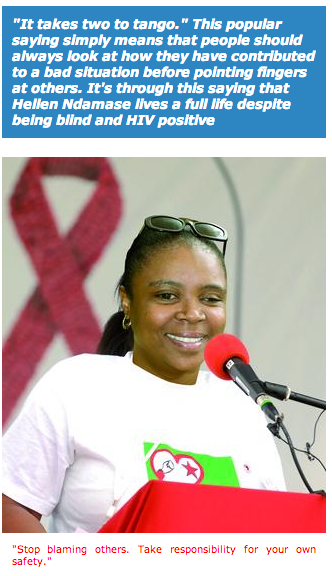 Hellen Ndamase (34) from Soweto is HIV positive and later went blind. While living with her boyfriend she found she had HIV.
"He was my first boyfriend and I didn't believe it when the doctors told me I was infected. I was bitter at first, but later I realised that I couldn't blame anyone but myself. I realised I didn't take the responsibility of protecting myself," she said.
Became blind
Ndamase, who is now an Aids councillor and motivational speaker, said she and her boyfriend did not tell anybody about their HIV status until he died in 1998. "His death opened my eyes. I decided to tell my family and everyone else that I was HIV positive. It was not easy at first. I lost my job and I had to go and live with my parents. They have been very supportive ever since."
"In 2005, when I was studying for an honours degree in Industrial Psychology, I became blind," said this lively young mother of a 10-year-old son.
Motivational speaker
Ndamase said becoming blind was worse than when she found out she was HIV positive. "I now live with the fact that when others say roses are red, I say they are dark," she said jokingly.
Ndamase has a university degree in administration, but because she is blind, she struggled to find a job. She could only get jobs as a switchboard operator. 
But becoming a member of the National Council for the Blind, has helped her to get a role in SABC's HIV and Aids educational drama, Chisa. This, in turn, helped her to become a motivational speaker. She also started helping organisations to run HIV support groups.
Aids Day
She said she had a problem with people teaching children about using condoms, but not teaching them about waiting to have sex until they were married or in a faithful relationship. 
In December last year, Ndamase gave a touching speech to the youth at an Aids Day in Mokopane, Limpopo. She shared the stage with Deputy President Phumzile Mlambo-Ngcuka and Health Minister, Manto Tshabalala-Msimang.
"There is possibility behind disability," Ndamase said. "Stop loving money too much because it will kill you. Stop blaming others for having infected you. Instead, take responsibility for your own safety. There is more information today than ever before, but people choose to be ignorant," she told thousands of people at Mokopane stadium.
- Ndivhuwo Khangale
---
Soak beans and samp overnight; it saves a lot of cooking time and electricity