Africa's queen of the skies
Africa's queen of the skies
tsoana
Thu, 06/06/2019 - 11:56
Written by Dale Hes
Major Mandisa Nomcebo Mfeka has been reaching for the skies since the age of five, when she watched her first airshow.
Today, she is Africa's first female fighter jet pilot, flying for the South African Air Force (SAAF) during the nation's most prestigious events, including the recent inauguration of President Cyril Ramaphosa.  
Born in Ntuzuma, KwaZulu-Natal, Major Mfeka became fascinated with aviation when her mother first took her to an airshow at the Virginia Airport in Durban. At that stage, she had no idea that she would one day take to the skies herself.
When she was 16, however, her life changed forever.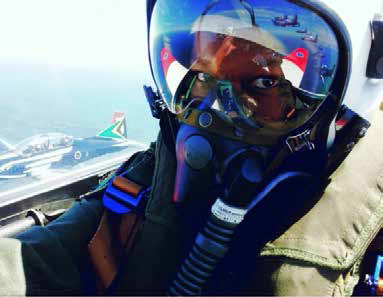 "I was researching careers in maths and science and saw a SAAF advert, outlining the requirements to be a pilot or navigator. I realised that I could potentially have a career in aviation and was so excited that I couldn't sleep," said Major Mfeka, who is now 29 years old.
Straight after graduating from high school, she joined the air force in 2008 as an airman. She officially achieved her SAAF wings in 2011, and progressed quickly through the ranks to become a qualified pilot and then captain. Today, she holds the esteemed rank of major and flies the British-made Hawk Mk120 from the Airforce Base Makhado in Limpopo.
Flying above gender and race barriers
Major Mfeka is humble about the incredible achievement of being the first female black African fighter jet pilot.
"I know I am representing a lot of people, but I have achieved this because this is the direction I wanted to go. At the SAAF, I have been surrounded by people who are professionals, people who are ambitious and want to be the best, so I wanted to embody that and be an expert in my career," she said.
Major Mfeka added that she hasn't felt intimidated by the male-dominated nature of the field.
"I just had to be more assertive and grow a thicker skin emotionally," she said, adding that she sometimes outperformed the men in training or on the academic front.
Soaring higher
Major Mfeka has flown jets at some of South Africa's most prestigious events. A few years after getting her wings, she was tasked with flying at the funeral of former President Nelson Mandela.
She also fondly remembers being part of a flying formation for Freedom Day in Port Elizabeth, which was led by one of her idols.
"The lead plane was flown by Colonel Musa Mbhokota, who was the SAAF's first black fighter jet pilot. He is somebody I look up to very much and I draw such inspiration from him, so it was an honour flying in formation with him."
Mfeka's biggest dream is to become the commander of a Gripen jet, the SAAF's premier fighter jet.
"When I see myself flying that jet, I get extremely excited. I would be so honoured if I could reach that milestone – it would be a dream come true."
Message for Youth Month
Major Mfeka said that the youth should never let their circumstances stand in the way of becoming a success.
"Your dreams and passions are an indication of what you can achieve and what you can become. Your potential is not determined by your background. Some people from very impoverished areas have achieved really great things; they did not let their circumstances dictate to them what their life was going to be like."