Gauteng pupils join digital revolution
Gauteng pupils join digital revolution
angenitha
Tue, 10/29/2019 - 09:15
Written by Silusapho Nyanda
Pupils in Gauteng can now access school lessons via the Digital Content and Online Assessment Platform, even when they are at home.
Gauteng's MEC for Education and Youth Development Panyaza Lesufi launched the platform at Soshanguve East Secondary School recently.
"Using the e-platform, pupils who attend information and communications technology-enabled (ICT) schools can watch lesson videos, do self-assessment tests and access the outcomes of their school tests immediately, even when they don't have internet access," said Soshanguve East Secondary School educator Clement Ngoveni.
Pupils can also write tests online. The system can mark their answers and let them  know why they got answers wrong.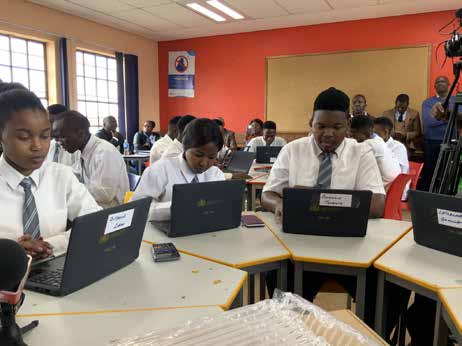 "When a learner submits their assessment, the system gives the educator immediate feedback," said Ngoveni.
Parents also benefit. Using the platform, they can see how their children are doing at school.
Parents can select the day's lesson in a particular subject and ask their child to write a test on it. The test results are available straight away, so they will know immediately if their child needs extra lessons.
Ngoveni said the platform was launched timeously, as pupils are preparing for final year exams.
The platform aims to increase access to digital content, and enhance opportunities for continuous assessment of activities to support curriculum delivery in ICT-enabled schools.
MEC Lesufi said the department aims to encourage and support the bring your own device model towards sustainability of e-learning in our schools. "This model enables schools that have their own ICT initiatives to benefit from the investment made by the department on the digitising of content, by having this content availed to them through the platform," said the MEC.
The department said the platform also aims to support teaching and learning by providing digital content access, digitised assessment practices, interactive revision material and step-by-step videos that show how to approach and respond to questions in an exam.
The prioritised subjects are grades 10 to 12 mathematics, physical sciences, mathematical literacy, geography, accounting, languages (Isizulu and Sepedi) and life sciences. For grades 8 and 9 the subjects are mathematics, natural sciences and technology.