Spreading COVID-19 awareness to communities
Spreading COVID-19 awareness to communities
Ursula
Fri, 08/28/2020 - 15:02
Written by: Silusapho Nyanda
The Akehlulwalutho Community Organisation is educating learners about the coronavirus disease (COVID-19) and helping to enforce social distancing at schools, grant pay-out points and community gatherings.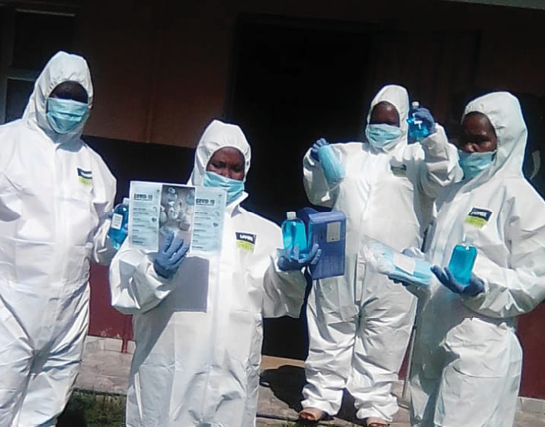 Based in Hluhluwe, KwaZulu-Natal, the non-governmental organisation is teaching people how to avoid spreading the virus by ensuring social distancing and practising good hand hygiene habits.
"We have also donated sanitisers to each learner," says Akehlulwalutho founder Thobile Sizani (46).
A team of 10 youth from Akehlulwalutho help to check people's temperatures and maintain social distancing at grant pay-out points. 
"We work with the South African Social Security Agency's (SASSA) staff to enforce social distancing and check temperatures. If we record a temperature above 38 degrees Celsius, we arrange for the person to be tested for COVID-19," says Sizani.
The organisation, which started its COVID-19 awareness programme in early April, has also partnered with the National Development Agency (NDA) to raise more awareness and help elderly people who have comorbidities, by fetching their chronic medication from local clinics and delivering it to their homes.
"The elderly and those with comorbidities have been classified as high-risk patients. If they go and queue at a clinic for their medication, they are risking contracting COVID-19," Sizani explains.
SASSA partners with CSOs
As part of SASSA's efforts to raise awareness about COVID-19, it has partnered with 52 civil society organisations (CSOs) across the country. 
NDA Chief Executive Officer Thamo Mzobe says the CSOs have employed 520 people as part of the programme. 
"They assist communities with various registrations to access government relief funds, such at the SASSA Social Relief of Distress Grant and the Department of Agriculture's Disaster Relief Fund for small-scale farmers."
Through this partnership, the NDA has provided assistance to over 76 000 households to date.
The NDA ensured training for the CSOs, with provincial teams from the departments of social development and health, SASSA and municipalities. It also provided protective clothing, including face masks, gloves and hand sanitisers, and pamphlets in all local languages from the Government Communication and Information System.  
For more information, contact the NDA at 011 018 5500 or email info@nda.org.za.