Zulu-inspired food puts Cape Town restaurant on the map
Zulu-inspired food puts Cape Town restaurant on the map
Joy
Tue, 08/30/2022 - 10:14
Written by Owen Mngadi
By showcasing pride in her heritage through traditional food, restaurateur Mmabatho Molefe has put her restaurant, Emazulwini, on the world map after it was included in the 50 Next list.
This list names 50 of the world's most exciting chefs, who have the potential to one day make the prestigious World's 50 Best Restaurants list.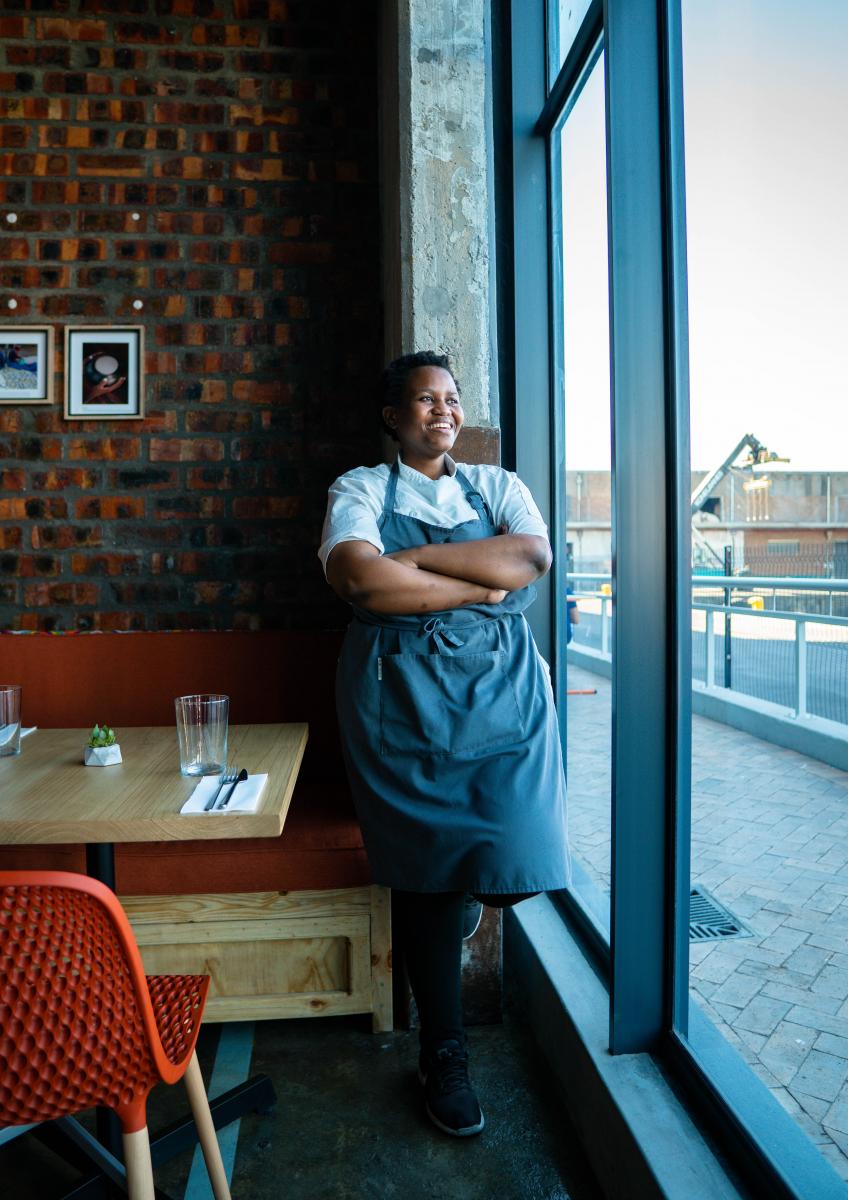 Molefe (27) established her modern Zulu restaurant in Cape Town at the V&A Waterfront's Makers Landing space in 2020, after she lost her job in the restaurant industry due to the COVID19 pandemic.
She says her cuisine was inspired by her upbringing in KwaZulu-Natal where her grandmother used to cook traditional food. She believes that this worked in her favour and helped her stand out from the rest in the 50 Next competition.
Molefe says Emazulwini, loosely translated as 'the heavens', has attracted interest from South Africans and international visitors keen to try her Zulu-inspired food. Makers Landing, which is a hub for South African food and culture, is the perfect venue for her, she says.
Emazulwini offers a seven-course set menu, which changes each season. Molefe's food is beautifully served, and includes dishes such as Isijingi – pumpkin porridge, roasted pumpkin, peach gel and brown butter ice cream; Isibindi nechakalaka – butter basted ox liver, yellow lentil chakalaka and onion jus; and Iqanda, Isibindi noshatini – tartlet with roasted tomato relish, chicken liver and biltong-cured yolk crème.                                                                                                                        
"When you get to Cape Town, you may not get a true reflection of what South Africa is about, so I decided to stay true to myself with traditional food to show visitors what we eat. I tell myself every morning I am telling my story; my interpretation of what Zulu food is. I hope people embrace it for what it is. We hope to elevate ordinary dishes to the exceptional. Cape Town has a diverse population, apart from international tourists; they all get to learn about Zulu food," she says.
The World's 50 Best's 50 Next list
It was Molefe's way of modernising traditional food that scored her a spot on the 50 Next list, which each year celebrates 50 people aged under 35 who are shaping the worldwide food scene. The competition enables these brilliant young chefs to show off their cooking to the world.
Molefe attended the awards ceremony in June in Bilbao, Spain, and says it was an inspirational day of discussions with other foodies.
"I have been fortunate to get people from across the country and all age groups to come enjoy our food. People are prejudiced against offal (the internal organs of an animal used as food) and I want to show them that if you treat it right, it can taste just as delicious as any other cut of meat. I also want to promote nose-to-tail dining, to champion this sustainable way of eating," Molefe says.
Emazulwini also won the African Restaurant of the Year title at the fourth annual Luxe Restaurant Awards earlier this year.
Economic Reconstruction and Recovery Plan
Emazulwini employs four people and Molefe has plans to grow her business. She says South Africa's rich heritage is a tourist drawcard.
As part of the Economic Reconstruction and Recovery Plan, the government has identified the tourism sector as one of the critical intervention areas and a key driver of economic recovery.
The Department of Tourism, the private sector and other stakeholders collaborated to develop the Tourism Sector Recovery Plan, which will help form strategic partnerships between government and industry to ensure improved visitor experiences. This will be done by introducing e-visas, promoting tourist safety and making it easier for tour operators to get licences.
For more information about Emazulwini restaurant call 062 160 2347
Did you know?
Emerging businesses in the tourism sector can apply for funding from the Department of Tourism, which will also show them how to market themselves and give them other support.
For more information, visit www.tourism.gov.za/Pages/home.aspx