Dr Decent Mkhombo finds joy in serving his community
Dr Decent Mkhombo finds joy in serving his community
Ursula
Wed, 09/07/2022 - 11:38
Written by Ursula Graaff
A young man who grew up in rural Mpumalanga achieved his medical degree when he was only 21, and is now giving back to his community as an intern doctor.
At just 22,  Decent Mkhombo is a qualified doctor doing his internship training at Mapulaneng Hospital in Bushbuckridge, Mpumalanga.
Mkhombo believes that the youth of South Africa have the answers to the problems we face in our country and the public service. He says that young people should be given an opportunity and a platform to express their ideas and solutions, which will keep the public service moving forward.
This, in turn, will allow for better service delivery in communities, especially those that need it most, he says.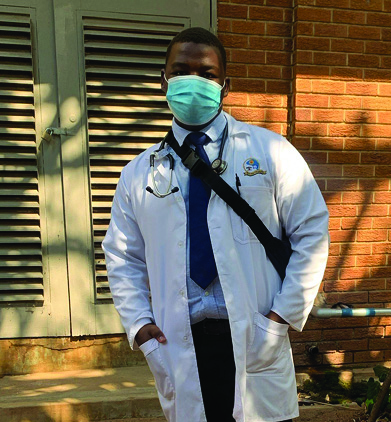 "The organisational culture in the public service should be promoting new thinkers and young thinkers by giving them leadership roles," says Mkhombo.
Born and raised in Thulamahashe, Mpumalanga, Mkhombo matriculated at Orhovelani High School and then went to the University of Limpopo to do his Bachelor of Medicine and Bachelor of Surgery degree.
He says that he did not initially plan to become a doctor, but after a conversation with his father, soon realised that he had the character of one.
"The pace of my life led me to different places, but when I got to my matric year, I was frozen by choice.
I ended up sitting down with my father, who discussed my strengths and weaknesses with me and that is how we got here."
In 2016, Mkhombo was among the first group of students enrolled at the newly introduced medical school at the University of Limpopo – when he was just 15 years old! He received a bursary from the Limpopo Department of Health.
Even though he is so young, Mkhombo says he is fortunate not to have faced discrimination or bullying from his colleagues or his patients. He says that he understands the quality of his work speaks for him and he is confident that he is well equipped to do his job.
Mkhombo chose to do his internship training at Mapulaneng Hospital because he wants to serve his community and give back before he chooses his next path in life.
"I came back to give back to the community that raised me," he says.
As an intern, Mkhombo is rotating between different departments in the hospital, so he can be exposed to various specialties. Although he has not decided what he wants to specialise in, he is considering nuclear medicine, which involves using small amounts of radioactive substances to take pictures of areas inside the body and to treat disease.
Mkhombo believes working in a public hospital is not difficult because of the structures and protocols in place. It is easier to do the work when you are focused on the patients and what is best for them, he says, adding that as a public health worker, treating patients with dignity and respect goes a long way in serving them. 
"To me, being a public servant means not making your patient feel like less of a person."
Mkhombo says his job is not about the title, but the recognition he gets for helping those in need.
Becoming a doctor
Universities have different entry requirements, but in general, if you want to become a doctor, you need to pass matric with an average of 70–75% (excluding life orientation). Every year, more students apply to study medicine than the universities can accommodate, so you must achieve excellent marks in mathematics, physical sciences and life sciences, which are compulsory subjects if you want to become a doctor.
Visit the websites of individual universities to find out their specific entry requirements.