The Free State Provincial Government is committed to help needy students obtain higher education, while also addressing the lack of scarce skills in the province through its service delivery plan called Operation Hlasela. To do this, Premier Ace Magashule started the Free State Bursary Scheme.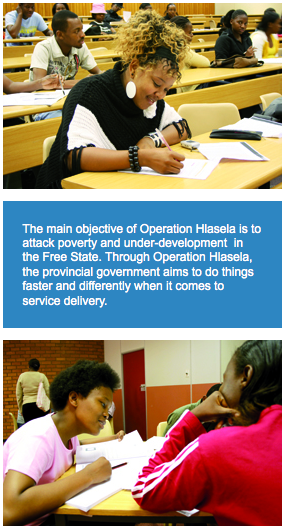 The Free State provincial administration has taken a bold step towards investing in the future. The provincial government made available R128 million for Free State students studying any of the scarce skill professions at higher education institutions throughout the country. It will fund tuition fees, accommodation and stationery needs for students who meet the necessary requirements.
The skills acquired by bursary holders will go a long way to support the province's service delivery plan called Operation Hlasela (meaning to attack in isiZulu).
Scarce skills
Scarce skills include information communication and technology, medicine, veterinary sciences, civil engineering, electrical engineering, agricultural sciences, chartered accounting and environmental sciences.
During 2010, more than 2 670 students were awarded bursaries to study in these fields. Premier Magashule said these students would, on completion of their studies, help to solve the critical shortage of skilled workers in various provincial departments and municipalities in the province. This in turn, will help to improve service delivery, particularly to rural municipalities where there is a serious shortage of engineers.
Bursary holders are expected to work hard in their studies, complete their courses within the required time and return to work in the province.
Performance
Bursary holders are expected to work hard in their studies, complete their courses within the required time and return to work in the province.
On completion of their studies, bursary holders will have to work in the Free State for the same number of years they were funded during their time of studying.
Students' performance will be monitored by the Office of the Premier, as well as by members of the Provincial Executive Committee in the Free State.
They will visit the bursary holders at the institutions where they are studying to check their progress. During these visits, bursary holders will meet the Premier to discuss any problems they have and to update him on progress made with their studies.
More funds had been made available for the Bursary Scheme this year with the hope of increasing the number of holders to more than 3 000.
The Bursary Scheme is presently administered by the Free State Basic Education Department.  A spokesperson for the department said they hoped that those students who did not get bursaries from the scheme would make use of other existing government schemes such as the National Student Financial Aid Scheme (NSFAS).
 
NSFAS bursaries for FET college students




Earlier this year, President Jacob Zuma and the Minister of Higher Education and Training, Dr Blade Nzimande, announced that final-year students who received loans from NSFAS would have those loans changed into bursaries if they completed their studies within the required time.




In addition to this, students who enrol at Further Education and Training Colleges will for the first time also get loans from NSFAS. Until last year it had only given financial assistance to students at academic u0niversities and universities of technology.
For more information about the Free State Bursary Scheme, contact the Free State Department of Basic Education: 051 447 2764.




For more information about NSFAS, call 021 763 3232; Email:

info@nsfas.org.za