Know your consumer rights
Know your consumer rights
sadmin
Thu, 08/28/2014 - 10:07
Dti advertorial
The Department of Trade and Industry (dti) has launched a month-long campaign aimed at educating the public about the new Consumer Protection Act. The campaign will mainly target rural areas where service providers take advantage of consumers by rendering poor services or selling harmful products.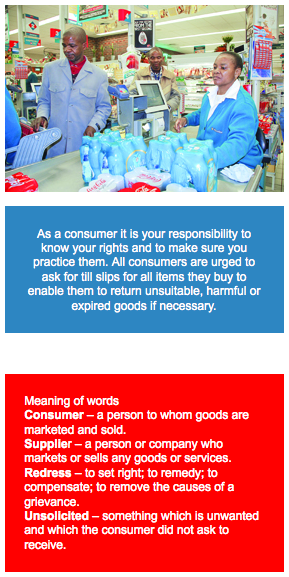 Consumers, especially in rural areas, lack information about their rights. The Consumer Protection Act (Act No 68 of 2008) will take effect from 1 April. It will be implemented by a body called the National Consumer Commission.
The focus of the campaign will be on the rights of consumers to:
cancel or renew a fixed-term agreement;
cancel direct marketing contracts within the cooling-off period;
give effect to the consumer's right to stop the use of their information for direct marketing purposes;
choose or examine goods, even after it has been bought and delivered;
return goods and seek redress for unsatisfactory services (to set a situation right or to compensate for damages or bad service);
keep and not pay for unsolicited goods or services (unwanted goods that the consumer did not ask for); and
cancel advance reservations.
There is currently a shortage of consumer courts in most of the provinces. However, after the Act takes effect, more consumer courts will be established in all the provinces.
During the campaign, consumers will be educated on the right to choose and the right to good value and quality, which provide consumers with redress on goods and services.
The Act will also deal with shops and service providers. Suppliers of goods will be held responsible for unsatisfactory products. If suppliers are caught selling products that are not satisfactory, they may be banned from selling.
The campaign aims to ensure that consumers are able to:
make well-informed buying decisions;
access a wide range of products and services, based on honest and fair marketing and selling practices;
have access to efficient and effective redress; and
know and understand their rights and responsibilities.