It is unusual to find a woman doing a dangerous job like maintaining electricity wires. But for Mabu Asnath Phalane, this kind of work is her income and pride.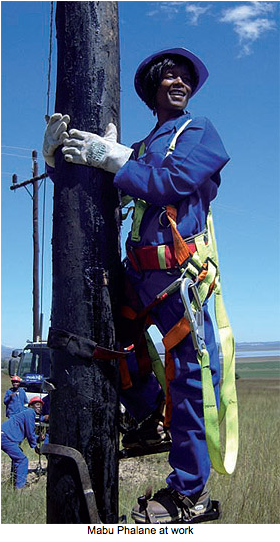 Brightening up lives with electricity Phalane, a 31-year old mother of two, is the proud owner of an electrical company in Newcastle, northern KwaZulu-Natal.
What she enjoys most about her job is brightening up people's lives by bringing electricity to rural areas where communities had to make do without it in the past.
Main task
Phalane's company, called Phindulo Trading, builds high-voltage power lines and provides other electricity-related services for Eskom. These include maintaining power lines and sub-stations, as well as installing transformers.
Their main task is to install electricity in various parts of northern KwaZulu-Natal and in Mpumalanga. They start with the basic things needed to connect households to the electrical grid. This includes digging holes, planting poles and putting in lines and transformers.
Farming
At first, electricity was not Phalane's area of interest. She wanted to be a farmer. She studied agriculture and graduated with a diploma in animal production. But growing up in a rural area without electricity sparked her interest to follow a career in electricity.
Having first-hand experience of not having electricity at home, Phalane is aware of the difficulties these communities face. "You have to collect firewood in the veld. At night you cannot study properly because you have to use a candle," she said.
"My brother is an electrical engineer and I became interested in what he was doing, so I decided to enroll for an electrical course."
Bringing joy
"When you know people had been working on a farm for almost 20 years without electricity, and you see their joy when you bring it to them, you feel that you are making a difference in their lives," Phalane said.
She started her business using her own savings to buy a second-hand truck, equipment and protective clothing. After struggling to make ends meet for three years, Phalane applied for funding from the Umsobomvu Youth Fund.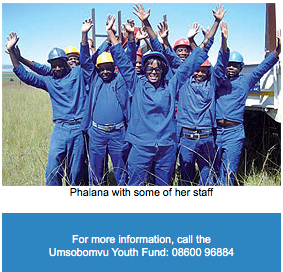 "With the money I got from the fund, I could buy brand new equipment and a new eight-ton truck. Now everything is running smoothly and I manage to complete my jobs on time."
Job creation
an industry dominated by men, Phalane said. But knowledge of the work has helped her earn the respect of her male employees. She employs 18 permanent staff who are qualified to work with electricity.
Her plans for the future include growing her company so that it can create more jobs in the electrical industry, especially for young women.
- Mbulelo Baloyi