After refusing to allow limited resources to stop her from reaching her dream, paint manufacturer Cate Olifant is on course to make her mark in this demanding industry.
Olifant's journey began in 2016 when she left the construction sector to follow her dream of becoming her own boss.
Although she wanted to create her own paint range, after doing market research, she realised just how much money it would take. She approached a State-owned development finance institution, the Industrial Development Corporation (IDC), for funding, only to be told that her application would only be considered if she was already manufacturing her own paints.
She heeded the advice and Akani Paints was born.
Speaking to Vuk'uzenzele, she says: "I decided to take the risk. I don't have a background in chemical engineering; I've never worked in a chemistry plant nor have I worked on paint [manufacturing] before."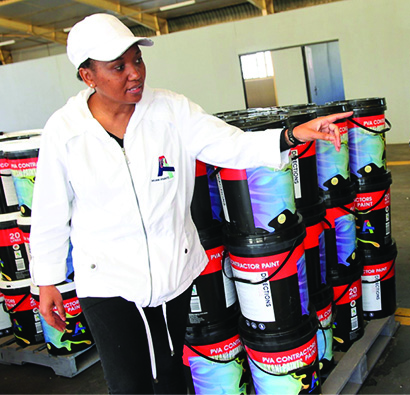 She says after her funding request was turned down, she did relevant short courses and visited several paint manufacturers to learn from them.
Around that time, Olifant relocated from Gauteng to Limpopo, where she set up shop in an abandoned and dilapidated building in the Nkowankowa industrial area.
"When I got the factory in July 2016, I thought, 'Okay, I have the building, but it is dilapidated."
Fortunately, she had savings, and although she had to start on a smaller scale than she had initially planned, she was able to renovate the factory.
"I had to get a second-hand machine, which cost me about R60 000, only to find out it wasn't going to work [because] I still needed other things."
Over the next few years, Olifant found work and saved what she could to invest in her business.
"In 2019, I started production with my second-hand machine."
It was not all smooth sailing, she says, with poor paint formulations and money proving to be the biggest challenge. Just as things were starting to look up, the business was affected by the COVID-19 pandemic.
Funding from government
Olifant attributes the survival of Akani Paints to the business training, marketing assistance and help in applying for funding she received from the Small Enterprise Development Agency (SEDA), an entity of the Department of Small Business Development that gives non-financial support to small businesses.
 The SEDA has over the years assisted Cate in receiving R400 000 in grant funding into the business from different government entities.
Olifant has also been granted a R1 million loan from the Small Enterprise Finance Agency (SEFA).
While she is still awaiting the release of the funds, she says the money will allow her to build a laboratory, which will enable her to produce paint that is approved by the South African Bureau of Standards (SABS).
Large retailers will only stock SABS-approved paint and the SEDA is assisting her in obtaining this certification.
Job creation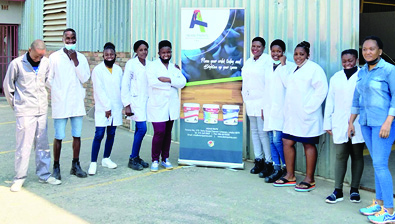 Akani, which makes water-based interior and external paint, employs eight permanent staff members and is hosting ten chemical engineering graduates for 12 months.
She says she hopes to increase employment opportunities once her fully equipped laboratory is in place.
Her goal, she says, is to sell her paint internationally, starting with the Southern African Development Community countries.
She received a leg up in this regard from the Department of Trade, Industry and Competition (the dtic), which enabled her to attend an Intra-African Trade Fair in Durban in 2021 to market her products to suppliers in the African continent.
"Looking back, I really appreciate the effort, support, encouragement and training given by the dtic, SEDA, Productivity SA, Limpopo Economic Development Agency and the Greater Tzaneen Municipality," says Olifant.
If you are an entrepreneur looking for funding, contact the following entities: