A FORMAL recycling buy-back centre in Soweto is uplifting the community in the spirit of Nelson Mandela Month.
Smanga Mthembu, a Soweto entrepreneur who is making a difference in his community through his recycling business, is living up to the Nelson Mandela Day theme to 'Do what you can, with what you have, where you are'.
By transforming an illegal dumping site into a reliable, award-winning recycling business called Umphakathi Recyclers, the 30-year-old is empowering his community and helping to provide dignified funerals, while looking after the environment.
It all started after Mthembu dropped out of university due to a lack of funding and tried his hand at recycling. After collecting a large bag of paper, which he sold to a nearby informal recycling centre, he noticed that most of his fellow recyclers were very poor. "You could see that many people were 'eating from hand to mouth'."
He decided to find out more about the recycling sector and learnt that it offers many opportunities for improving lives – if done properly. These were the first steps towards the establishment of  Umphakathi Recyclers.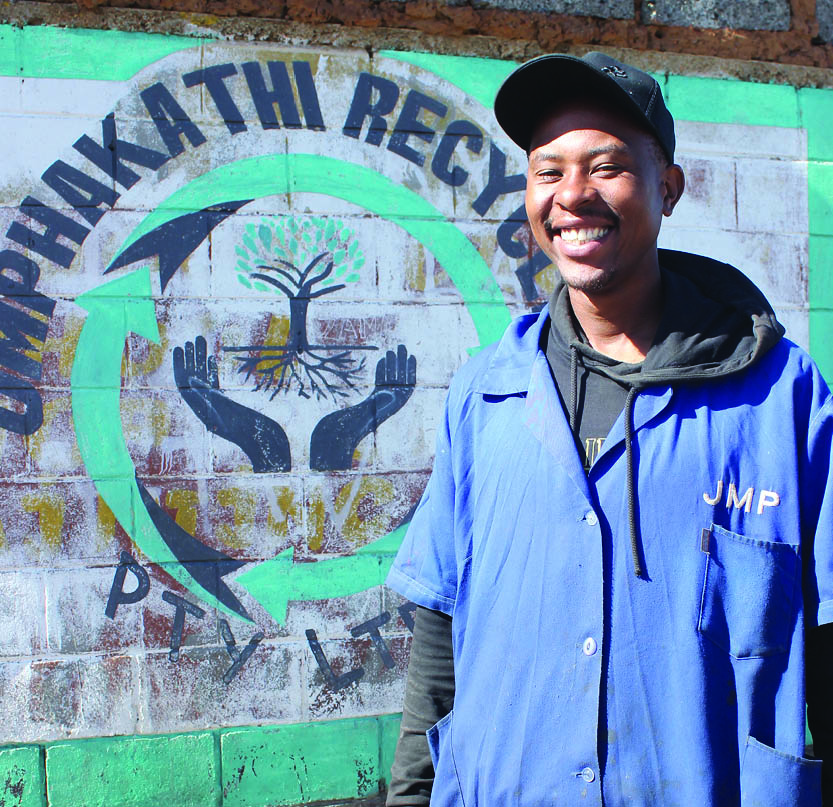 Mthembu became a member of the Polyethylene Terephthalate Recycling Company (Petco) – a non-profit company that promotes plastic recycling across the country and helps ensure recyclers have a place to sell what they collect, at a fair price – and set about finding a suitable site. He identified a neglected school that had been turned into an illegal dumping area and approached the ward councillor for assistance in securing the site.
The City of Joburg agreed to clean up the school so that Mthembu could start his recycling centre. "It was a mammoth task, given the extent of the damage," he says.
The assistance from the municipality marked a turning point for Mthembu – he managed to convert the old facility into a fully functional recycling centre for glass, paper and plastics. The centre was soon supported by community members who brought in loads of recyclables for cash, which also improved the environment of the township.
 Burial scheme
One day, an elderly woman who brought in her recyclables started to cry because she could not afford a funeral for her son. Moved by her plight, Mthembu came up with a plan to help people in the same situation.
He launched the Umphakathi Recyclers Burial Scheme. Its members bring in recyclables and in the event of a loved one's death, they can claim for funeral related equipment needed to provide a dignified send-off, including tents, tables, chairs, gas stoves, pots, mobile toilets, a mobile kitchen and plates.
Umphakathi Recyclers has so far created permanent employment for six people, while the burial scheme covers 438 households.
Award-winning philosophy
The company was a joint winner of the Best Community Recycling Initiative in the recent Petco Awards. This national environmental awards initiative recognises excellence in reuse, recycling and waste minimisation among businesses, organisations, community groups and individuals within the plastic industry.
In 2021, Mthembu received R400 000 after winning a South African Breweries Foundation Social Innovation Award.
In the spirit of struggle icon Nelson Mandela, Mthembu believes that without communities to support them, businesses would not succeed. "Without my neighbours, I would never have managed to get my recycling business going," he says.
He now hopes to grow his business to create additional jobs for young people in his community.
"If you have a vision, never give up," is his advice to entrepreneurs. "It is not going to be easy, but it will be worth it. I never thought it was possible, but it was – through hard work."
He says he is proud of the impact his businesses have on the community. "People can afford to buy bread, and we ensure that everyone receives a dignified funeral, regardless of their social class."
His Mandela Month message is: "Let's save the environment. Let's create jobs. Let the community prosper."