Sport
Soccer fans who cannot make it to the stadium to watch matches live during the 2013 Orange Africa Cup of Nations (AFCON) need not despair.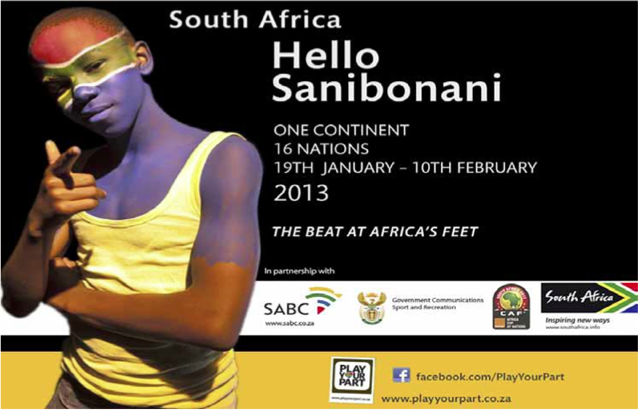 They will not have to miss out on any of the action and have the option of watching the matches in the electrifying atmosphere of fan parks or public viewing areas that will be set up during the tournament.
Following the success of the fan parks in both the 2006 FIFA World Cup in Germany and the 2010 edition in South Africa, they will once again make an appearance during AFCON 2013.
The tournament will be hosted across five South African cities where Africa's top 16 football nations will battle it out for the coveted trophy and bragging rights of being the best on the continent.
The focal points of each fan park are the big screens where fans can watch games and enjoy the activities organised by the municipalities.
In Gauteng, football fans will have a choice between three official public viewing areas in Ivory Park, Diepsloot Park and Orange Farm Park. Gauteng residents will also be able to watch the matches at parks where screens will be put up, said Thembelihle Radebe from the City of Johannesburg.
"Those screens will be switched on for the duration of AFCON to afford residents from those areas to view AFCON games without having to be at an official fan park," she said. These will be at Diepkloof Park, Diepsloot Park, Eldorado Park, Ivory Park, Joubert Park, Lenasia, Orange Farm, Orlando West, Thokoza Park.
Radebe said discussions were also taking place with private companies that want to develop villages in line with countries such as the Nigeria Village.
"The idea of these villages is to provide soccer related entertainment and excitement and to have big screens for showing the matches."
Football fans in Mpumalanga can also watch the games at Ga-More Stadium in the JS Moroka Local Municipality and Mkhuhlu Stadium in Bushbuckridge.
While fans are out enjoying the games, police will be hard at work to ensure an incident free tournament.
Deputy Minister of Police Maggie Sotyu said government would go all out to ensure that the tournament is safe and secure.
"Security will be provided to all the participating teams including Bafana Bafana, 24/7. We will strengthen security at all ports of entry during this period, especially our borders, airports, seaports and land ports of entry."
She added that police would escort all participating teams from their hotels to the games and training grounds.