Award-winning female farmer Matshidiso Mooketsi says women should not fear the challenges and hard work that come with running a farm.
Mooketsi is in charge of the 1 855 hectare Driehoek Farm, which is 80km south-west of Vryburg in North West. Mooketsi and her husband signed a 30-year lease agreement with the Department of Rural Development and Land Reform (DRDLR) to use the farm under the department's recapitalisation programme.
They have since established the Barui Driehoek Cooperative that employs two permanent staff and seven seasonal workers. Mooketsi's passion for farming goes back to her days as a little girl.
"My grandmother used to take us along to her farm when I was still in primary school with my friends. We would work on the farm and milk goats."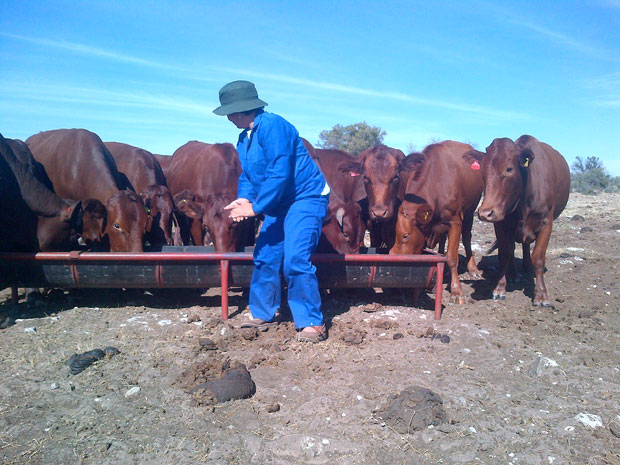 The trips to the farm with her friends increased her love for farming. In 2008, she rented a farm in Tosca in North West. While there she applied for funding for a farm in Vryburg.
"There were 11 applicants and I was the only woman. We went for the interviews and after a week, I was called to say that I've got the farm. I felt honoured and proud that government chose me as a woman. As they say, when you empower a woman, you are empowering a nation. I think the idea of empowering female farmers is a good one by government," she said.
The farm is home to 140 Bonsmara cattle, 75 Boerbokke and Kalahari goats. She also plants spinach and has egg-laying hens. "We sell the cattle at auctions and we also sell to the Vryburg abattoir and the public."
The farm donates vegetables to the nearby Lykso Intermediary School, and will supply vegetables to the soon-to-be opened agricultural hub in Taung.
The farm has won numerous awards since it was established. In 2012, the cooperative won a prize from ABSA and the Agricultural Research Council (ARC) for its focus on keeping proper farm records.
In 2013, the cooperative won the North West Female Entrepreneur competition prize in the Commercial Markets category, which the North West Department of Rural, Environment and Agricultural Development sponsored.
The prize was a fully paid trip for her and her husband to attend the Annual Beef Cattle Symposium in Oklahoma, in the United States of America, in 2014.