At age (17) Maleeto Mabe was already a convicted murderer. While in a correctional centre she took a decision to change her ways to ensure a better future for herself.
She is now 25 and is a supervisor with the Working on Fire (WOF) programme.
WOF is an Expanded Public Works Programme funded by the Department of Environmental Affairs.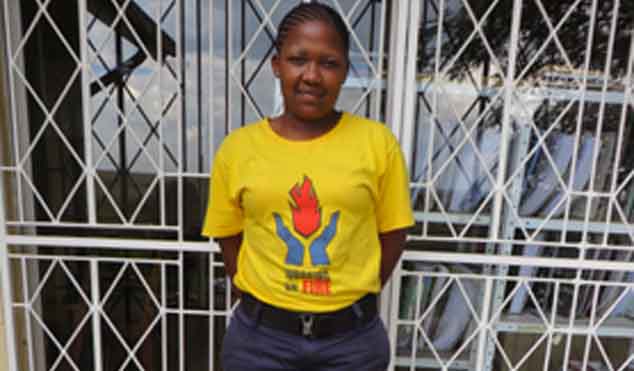 The programme trains young people to become veld and forest fire fighters. There are more than more than 200 teams stationed throughout South Africa.
Mabe received an opportunity to be part of WOF through the Department of Correctional Service's parolee programme.
She is now a crew leader of 23 at the Bailey Nature Reserve team in Carltonville.
Mabe says her reintegration into WOF has given her at a second chance.
"I am saving lives and protecting our environment."
In the programme, she says she was able to go through the different processes of healing.
''Part of healing is to admit the offence that you made. Be willing to go through rehabilitation and see life differently.''
She relays her story explaining the events that lead to her being convicted for murder.
At the age of 15 Mabe was playing pool at a local shop in her community in Bekkersdal in Gauteng.
"I accidently stamped on another man's foot and I apologised to him for the mistake."
The 27-year-old man that Mabe fumbled over took her mistake to heart and started swearing at her and refused to accept the apology.
"He kept coming at me and intimidating me. I lost control of my anger and went into a house nearby where the exchange of words was happening. I found a knife and stabbed him and he died."
The police were called and she was arrested and a two-year trial followed.
"In 2012 I was given the title of convicted murderer."
Mabe was sent to a correctional centre to serve her 15 year sentence.
"When I arrived at the correctional centre I took part in programmes such as anger management and I attended sessions with a psychologist."
She says while going through the process of healing she realised that her anger towards men came from being abandoned by her father.
"I grew up alone with my grandmother. There were no male figures in my life and I always thought that I should always protect myself because I had no one to protect me."
In 2013 Mabe was released on parole after serving one year of her sentence.
Although there is a stigma attached to former convicts, Mabe is not deterred from living her best life.
As the country celebrates Women's Month, Mabe says women should always fight for their goals.
"It is also equally important for the community to respect the rights of women."