The Gauteng Department of Education has honoured the province's top performing teachers, recognising the hardwork they put in to ensure learners' success.
The provincial Teaching Awards took place recently, with the winners going through to compete at the national event early in 2013.
Teachers were nominated by their schools in various categories.
The awards recognise and promote excellence in teaching performance; honour dedicated, creative and effective teachers and encourage best practice in schools.
Gauteng MEC for Education Barbara Creecy said that teachers were the perfect role models.
The following inspiring teachers scooped these top awards:
Excellence in primary school teaching: Julie-Ann Lendrum of Winchester Ridge Primary
Lendrum started her career as a librarian but switched to teaching after she realised the need to improve language and literacy skills. She now teaches English and life orientation at Winchester Ridge Primary School. Lendrum is also the conductor of her school's choir.
She believes that by participating in the choir learners can improve their English and become more confident in the language. In the past four years her choir has achieved 100 per cent for their performances at the Alberton Eisteddfod.
Her advice to fellow teachers is to put more effort into their teaching to get positive results out of learners.
Excellence in secondary school teaching: Shape Msiza of Ponelopele Oracle Secondary
Msiza has brought sporting and academic success to the recently opened Ponelopele Oracle Secondary School in Ivory Park. She has ensured a 100 per cent pass rate in Grade 12 English for most of the years she has been teaching at the school.
In 2009 she received her school's Best Teacher of the Year award and in 2008 received the Best Sports Administrator award. Msiza is passionate about sports and has served as a technical athletic officer for Athletics South Africa. She was the chairperson for athletics committee of the Johannesburg East District from 2008 to 2010.
Excellence in primary school leadership: Nicollas Els of Ncha Peu Primary
Els believes that teaching is his divine calling. He enjoys working with children and has been involved in teaching for the past 26 years, 22 of those as a principal. The highlight of his career was being promoted to principal after just four years in teaching. Els has been the principal of Ncha Peu Primary in Soshanguve since 2000 and also teaches life sciences. His message to other teachers is that success is possible through hard work, commitment and a positive attitude.
Excellence in secondary school leadership: Rakgadi Mathathe of Lesiba Secondary School
Mathathe is the principal of Lesiba Secondary School in Daveyton. For past 23 years she has been working with young people to assist them realise their potential. Her passion for human development drove her to study teaching. Mathathe started her career as a physical education teacher and earned the principal's post because of her commitment to her work.
Mathathe takes pride in the success of her learners. The Grade 12 learners have her cell- phone number so that they can call her at any time for advice. She encourages teachers at her school to take learners under their wing.
"We do this in order to mentor and impart positive messages to our learners so that they can be responsible citizens. For us teaching is not only our job but also a calling to enhance human development," Mathathe said.
Excellence in Grade R teaching: Paula Pretorius of Laerskool Pierneef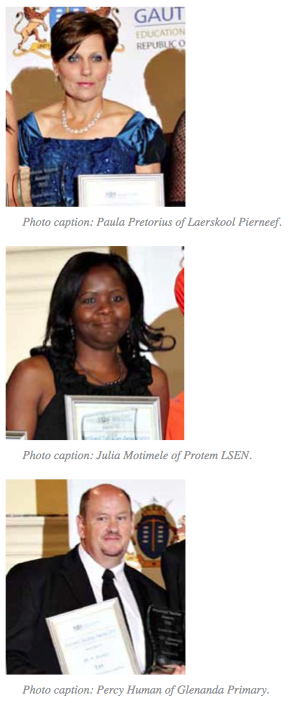 It did not come as a surprise to many when Pretorius became a teacher. Her patience, passion and love for children make her the outstanding teacher she is today.
After obtaining two education related degrees at the University of Pretoria, Pretorius embarked on a 20 year teaching career. She teaches Grade R learners at Laerskool Pierneef in Pretoria. Pretorius said the years she had spent teaching have been the best of her life.
"I have seen thousands of learners progressing to Grade R with confidence and that fulfils my dreams. They leave Grade R emotionally stable and school-ready, that in itself makes me proud of my work as an educator. I will forever cherish those moments," said Paula.
Her advice to parents is to support their children at all times. "Never neglect the developmental needs of your child. Assist them to reach their goals," she said.
Excellence in special needs teaching: Julia Motimele of Protem LSEN
Motimele started teaching technical engineering at Tshwane South College while she was still a student. This is where she developed a passion for teaching.
After completing her qualification in engineering she enrolled for a postgraduate Certificate in Education. She has been a teacher for nine years and is currently teaching at Protem LSEN. She has an Honours degree in Education Management. Motimele always thought of herself as shy but her experience in teaching has proven otherwise. She believes that teaching has enhanced her public speaking and interpersonal skills. Motimele plays an active role in her school by organising events, as well as HIV and crime awareness campaigns. She also coaches volleyball and coordinates cultural activities.
Excellence in ICT-enhanced teaching: Percy and Wayne Human of Glenanda Primary
This father and son team has taken the world of information communication technology (ICT) to the classroom.
Percy has 28 years of teaching behind him. With siblings and two children that are also teachers he says that teaching is the family business. He teaches social sciences, Afrikaans additional language and life orientation while his son Wayne teaches ICT to Grades 3 and 4. Wayne's teaching career started in 2003 and he has never looked back. "It's wonderful to teach children ICT for the first time and to know that you are equipping them for life since technol- ogy is the future," he said.
Percy and Wayne have adopted the Tiisetso Bekezela Primary in Weiler Farm and provide free ICT lessons to the learners. In addition, they provide food, stationery and transport for the learners to attend school. They also lead the partnership between their school with the 2nd Global Partners Junior in New York. This ICT collaboration enables learners from around the world to share ideas with their peers.
Lifetime Achievement Award: Bilkes Vawda of Marlboro Gardens Secondary
Vawda left KwaZulu-Natal in 1965 to study law but she stood in the wrong queue and registered for teaching instead. She has been teaching for 39 years and is the principal of Marlboro Gardens Combined School. Her school caters for learners from Grade R to 12. Originally the school catered for Indian learners but has since transformed into a multi-cultural institution.
"We grew from only 400 Indian learners to a staggering 1 300 learners who represent our diversity. We have boldly embraced transformation," she said. The school achieved a 100 per cent matric pass rate. In October 2004, the Japanese government helped the school open a fully equipped computer centre. Vawda drove the partnership.
"I wish my school was big enough. My heart sinks with sadness whenever we have to send back numbers of potential learners because we have limited space available," she said.
Kader Asmal Excellence Award: Lefa Mohapi of Tsolo Secondary School
Mohapi, the principal of Tsolo Secondary in Vanderbijlpark since 2009, has previously won the Gauteng Provincial Teacher Awards category of Excellence in Secondary School Leadership. Mohapi has 27 years teaching experience.
His school in the Bophelong informal settlement boasts 59 staff and 1 463 learners.
His passion for education has seen him receive a number accolades including being a guest at the official opening of Parliament in 2010.
"I am an agent of change. I lead with the eight Batho Pele principles," Mohapi said. Tsolo Secondary was once an underperforming school but under Mohapi's leadership has turned over a new leaf and recorded a 76.7 per cent pass rate.