Girls can do anything that boys can do, and it is only fair that we present them with the same opportunities so that they can thrive.
This is according to Edendale Technical School Principal Fano Ngubane, who shared his excitement after the Under-15 girls' football team from his school won the 2022 Confédération Africaine de Football (CAF) African Schools Championship in Lilongwe, Malawi recently.
The tournament took place over two days, and the Edendale Technical Secondary School beat Botswana's Mothamo High school girls' football team by five goals to nil during the finals.
Edendale Technical School is based in Pietermaritzburg in KwaZulu-Natal.
"I am very happy and excited for my girls. For a long time, girls were denied participation in certain sporting codes like soccer. Girls' soccer is still a new thing in South Africa and girls should be given the necessary support for them to succeed," he says.
Ngubane says most of the girls who play for the Under-15 team were playing for  the first time at the beginning of this year's school calendar. Due to their hard work and support from the teachers the whole team managed to win.
He encourages learners to try and balance their talents with academics.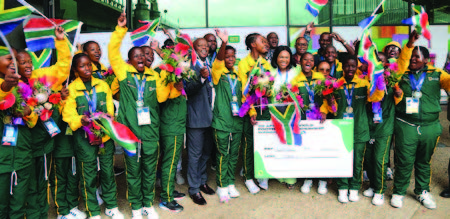 "It is not all learners who do well academically. Some will excel in sports. Our school tries to have a variety of sporting codes to allow learners the opportunity to discover their talents so that we can nurture them," he says.
Learners at Edendale Technical School can participate in sporting codes that include soccer, chess, rugby, netball, basketball, indigenous games, choral music, tennis, volleyball, and athletics.
Ngubane has been the principal of the school since 1998.
The school specialises in offering commercial, technical and science subjects to 1 800 learners from Grade 8 to Grade 12.
KwaZulu-Natal MEC for Sport, Arts, and Culture Amanda Bani-Mapena expressed pride at this achievement and said the future of school sport and women's football looks bright.
"We congratulate Edendale Technical School for lifting high the flag of KwaZulu-Natal and women's football in particular. We hope this win will inspire the next generation of women footballers," says MEC Bani-Mapena.
According to the department, the school walked away with R1. 8 million in prize money from the six-girl teams' tournament of the Southern African Schools.