Phase 2 of South Africa's mass vaccination programme is reaching the elderly across the country, at vaccination sites and in their homes.
Recently, 119-year-old Nomamelika Philiso of Mandleni village in KwaBhaca in the Eastern Cape received her first dose of the Pfizer vaccine.
Community health workers visited Philiso's home during a door-to-door campaign to register those who are over 60 years of age on the Electronic Vaccination Data System (EVDS).
They registered Philiso on the EVDS and not long after she was vaccinated at her home by senior health professional Thobeka Ludidi from Madzikane KaZulu Hospital.
Ludidi first screened Philiso before administering the vaccine.
Happy and grateful
Philiso expressed gratitude to government for ensuring that she benefited from the vaccination programme.
"I am short of words. I am just happy and grateful," she says.
While Philiso's husband passed away in 1964 and eight of her nine children have also passed away, she is looking forward to spending time with her grandchildren and great grandchildren.
Another recently vaccinated gogo is 101-year-old Chithekile Hlabisa from Mzingazi in Richards Bay.
She received the first dose of the vaccine at Ngwelezana Hospital.
Hlabisa is extremely grateful to have received the vaccine as she spent four weeks in hospital due to the Coronavirus Disease (COVID-19) earlier this year.
Having battled with a heart condition for most of her life, she says it was only by God's grace that she survived. Unfortunately, one of her daughters succumbed to the disease.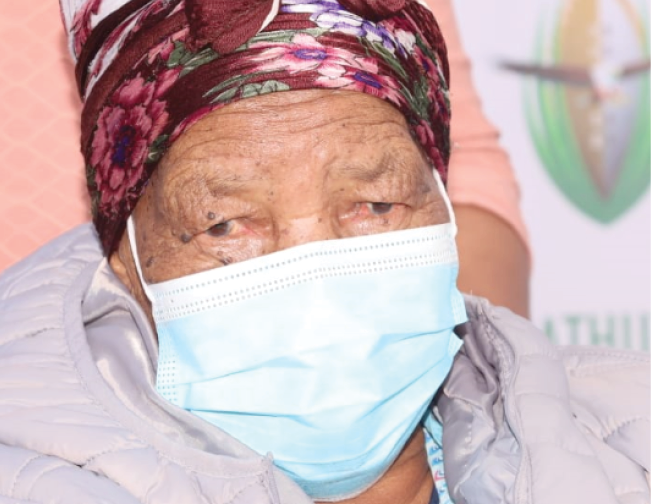 Waiting patiently
Chithekile encourages other senior citizens to take the jab.
"I have been waiting patiently for the vaccine. Having survived COVID-19 and being hospitalised for this virus can be a scary episode.
"I was happy to hear that now we are vaccinating. All people my age and younger than me should take the vaccination as soon as possible."
While she admits she was initially afraid, Hlabisa says receiving more information about the vaccine put her mind at ease.
Pulling out all the stops
Efforts are being made by various sectors to ensure that as many people over the age of 60 as possible register on the EVDS.
Pension payout points, where thousands of the elderly queue for their monthly grants, are also being targeted.
Jane Simmonds, who works as the Research Manager at the South African Medical Research Council (SAMRC), says she realised that grant queues play a big part in older people's lives.
"Where do you reach old people? They're not at work©not on public transport or at school. They're not even going to church much these days because of COVID-19. But they're living at home and in their communities."
When she saw that the level of vaccine registration for the elderly was low, Simmonds knew she needed to do something.
She has since rallied the likes of Boxer, South African Post Office and South African Social Security Agency, where thousands of senior citizens gather to collect their old age pension.
Registration
The South African Council of Churches and United Nations Children's Emergency Fund have also come on board and are sending volunteers to offer a helping hand by assisting pensioners to register.
Simmonds says while a large portion of the elderly have phones, they struggle with poor eyesight and therefore cannot see the screen, type in their information correctly or follow the instructions.
The group is helping the elderly to dial the USSD number (*134*832#), which is free, and fill in their personal details or use their own cellphone to register for the elderly people who do not have a mobile phone.  
High hopes
According to Simmonds, this is just the beginning.
"The next step is getting the needles in people's arms, as it enables them to be safe from COVID-19," she says. Simmonds adds that the SAMRC is targeting at least one million senior citizens.
Meanwhile, Boxer has started distributing 250 000 flyers in their stores to promote the vaccination rollout.
About 100 000 pensioners collected their money from Boxer in April.
"Going to Boxer, you have an opportunity to reach 100 000 people," says Simmonds.
Boxer's Head of Stakeholder Relations Ntombi Dludla says the aim is to see as many people being vaccinated as quickly as possible.
"We identified that the first step of registration was critical, yet challenging. We realised that many pensioners come to Boxer each month to collect their grants and we believed it was an ideal opportunity to talk to them about registering for the vaccine."
Dludla adds that the location of Boxer stores makes them ideal to gain access to many people from difficult-to-reach areas.
Additional reporting by SAnews.gov.za and City of uMhlathuze.