Budget votes
Of all the learners that passed matric last year, just over 60 percent were recipients of social grants – a sign that government's social security net is having a positive impact on vulnerable groups.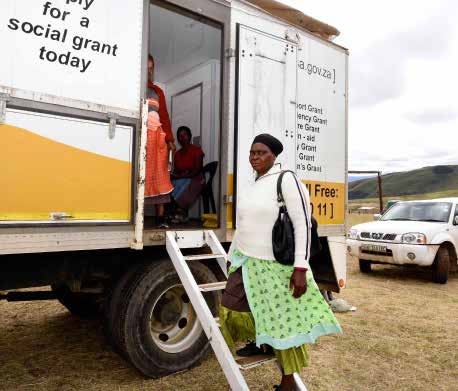 This is according to Social Development Minister Bathabile Dlamini who recently tabled the department's Budget Vote in Parliament.
This success story was testament to the fact that the investment government is making in the lives of the poor and vulnerable learners is showing positive results. 
"Children in our Isibindi Programme and the child support grant are performing well in schools.
"Last year, out of the 455 922 who passed their matric examinations, 304 913 learners received a social grant," she noted.
This is proof that social assistance has proved to be an important tool for human capital investment and the biggest contributor to reducing poverty and inequality.
The Isibindi Model aims to address social challenges among children brought on by the effects of the HIV and AIDS pandemic and other socio-economic challenges.
Through the programme trained community-based child and youth care workers are deployed to identified households to provide much-needed support to orphaned and vulnerable children. These may include assisting them to get ready for school in the morning, meal preparations, assistance with homework, registration for social grants and psychosocial support, to name a few.
In order to ensure that the education of these learners continues without interruption, the department is in negotiation with the National Student Financial Aid Scheme to ensure that learners that had qualified for grants are not subjected to a means test to qualify for financial support to further their studies.
Growing the social security net
Government's social assistance programme now reaches almost 17 million South Africans.
More than two thirds of all social grant recipients are children who receive the Child Support Grant.
Over three million older persons receive the Old Age Grant while a million people receive the Disability Grant."
Illegal deductions on social grants under the microscope
The department is dealing with huge challenges as a result of illegal deductions on social grants.
These deductions are eroding the value and impact of social grants in addressing the deep levels of poverty and inequality in the society.
"We have witnessed high levels of unacceptable practice of illegal, immoral and unauthorised deductions of money from all grant types for services ranging from airtime, water, loans and funeral policies.
"We published revised Regulations to the Social Assistance Act for public comment in February this year, which will deal with this practice.
"The department has considered all the comments and made some revisions to the Regulations," she said.
The department said these revisions to the Act would be published soon.
The Ministerial Task Team on Deductions will continue to monitor these practices and ensure that deductions are ultimately brought to an end.
"The absence of a funeral benefit has opened our social grant beneficiaries to exploitation by private insurance companies. The lack of government action to protect them has led to a very loud outcry by our beneficiaries and various civil society organisations.
"We intend to introduce legislation into Parliament during this current financial year, for the establishment of a funeral benefits fund."
Women empowerment
The Minister dedicated the speech to tackling struggles and challenges faced by women.
She said communities and families continued to be torn apart by the scourge of violence, abuse and discrimination.
"To address these challenges, we are going to table the Victim Support Services Bill, which will strengthen the protection, care and support services for victims of crime and violence."
The department's Command Centre on gender-based violence was an example of using technology to improve public services. 
"The Command Centre provides valuable counselling services to address all forms of trauma. Between January 2015 and March 2016, the dedicated staff at the Command Centre attended to more than 55 000 calls.
"Key to our interventions on gender-based violence is the need to empower unemployed women who are trapped in violent relationships and dependent on their abusive partners.
"Working with the National Development Agency, we will provide them with the necessary skills through our capacity building initiatives.
"In the end, every voice counts in ending gender based violence."
If you are a victim of gender-based violence call: 0800 428 428