About 20 years ago, the sight of children sitting in classrooms built from mud with no electricity, water or sanitation was all too common.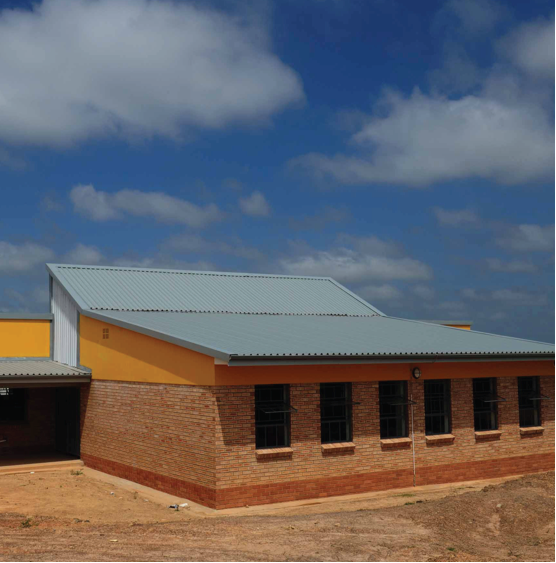 But then a democratic government came into power and with it came efforts to improve school infrastructure so that South Africa's children and teachers have facilities that are suitable for learning.
In 1994 government inherited a large number of schools that were without water, sanitation and electricity, the bulk of these in the Eastern Cape.
At the time, the school infrastructure backlog was at an all time high. In 1996, 59 per cent of schools were without electricity, 34 per cent without water, 61 per cent without telephones and 82 per cent without a library.
The Accelerated Schools Infrastructure Development Initiative (ASIDI) is one the programmes introduced by government to address this backlog.
The R8.2 billion public-private programme aims to eradicate the 496 mud schools in the country, provide water and sanitation to 1 257 schools and electricity to 878 schools by March 2016.
From July 2013 to December 2013, ASIDI handed over one school per week in the Eastern Cape.
ASIDI has already delivered water to 203 schools, sanitation to 226 schools and electricity to 150 schools.
In addition to ASIDI, the school build programme delivered 370 new schools, replacing mud schools and other unsuitable structures around the country.
The Tshantshala Senior Primary School in the Gugwini village is one of the schools to benefit from the ASIDI programme.
Situated just outside Lusikisiki, the school stands as a beacon of hope for the local community as they now know that their children have a decent place to learn. The new school boasts, among others, 14 classrooms and two water tanks and was built at a cost of R9 million.
Prior to the building of the school, learners in Gugwini used to travel more than 10km to attend school in the neighbouring villages.
A teacher at the school, Zandile Magobongo, said that teaching in the new building has become more exciting. "In the past, we used to teach under difficult conditions. The learners were crammed in one classroom and they were unable to concentrate," she said.
Previously, the learners were housed in a local church after the structure they had been using as a school was blown away by strong winds.
Magobongo said the learners were now more interested in learning.
A parent, who has two children at the school, Masisile Manzhele, said that she was happy with the school. "I'm happy that my kids will learn in a safe environment and that they will no longer have to travel to neighbouring villages to go to school."
A Grade 3 learner at the school, Siphokazi Mbele, was excited to be in the new school. "I want to be a teacher when I finish school," she said.