Infrastructure development
Infrastructure development key to Africa's success
Writer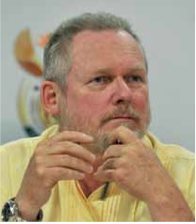 Photo caption: MInister of Trade and Industry Rob Davies.
African countries must upgrade their infrastructure, integrate their markets and diversify the products they produce to sustain their growing economies, says Minister of Trade and Industry Rob Davies.
Addressing the Mainichi Forum of the Southern African Development Community (SADC) in Tokyo, Japan, recently, Minister Davies commended Africa for being one of the fastest growing economic regions in the world today.
He said the average growth of the African continent was estimated to be 5,8 per cent, in contrast to the European Union, which has gone into recession and the United States, which is constrained by the low level of economic growth.
"In fact, after Asia, the African continent is increasingly widely recognised as the next Davies attributed the continent's impressive economic growth to sound financial institutions and the willingness to engage politically. "There has been significant and sustained growth across the continent driven in part by the boom in mineral commodities, but also by growth in retail, agriculture, transport and telecommunication.
"We do not have governments in Africa that are struggling with huge debt crises because of the recession; we have resolved a number of political crises and we have better economic governance on the African continent."
Trade and investment
Minister Davies was in Japan on an official visit to promote trade and investment ties between South Africa and Japan. Trade between the two countries has increased slightly from R87 billion in 2007 to R90 billion in 2011.
During his visit, the Minister met with various investors, including Isuzu, Toyota, Nissan, Japan Bank for International Corporation, Mitsubishi, UFJ Bank, and the Japan External Trade Organisation.
The SADC Mainichi Forum is one of the resource capacity, infrastructure development and investment.
The SADC Mainichi Forum is a partnership between the 12 SADC member countries and the Mainichi Newspapers Company. It is intended to boost the Japanese private sector and expose it to the trade and investment opportunities that exist within SADC member countries.
To take full advantage of such partnerships, warned Davies, Africa must address challenges of inadequate infrastructure, small and fragmented markets and inadequate diversification of industrial output.