What I have learned is that South Africans should all work together as one nation, said Confed Cup volunteer, Nannikie Mogwasha. Mogwasha, a 23-year old business management student in Tshwane and a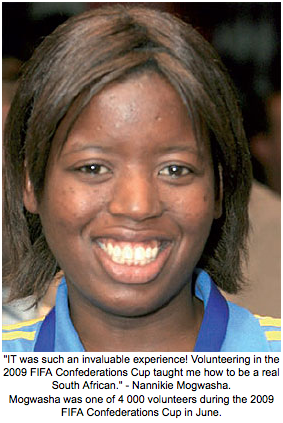 part-time waitress, was a volunteer team leader at Loftus Versfeld Stadium.
"What I found to be very important was showing our visitors how beautiful and diverse our country and its people are," said Mogwasha. "Seeing the joy on their faces made me to feel that I had been a good ambassador for my country."
Working together
Mogwasha and three other volunteers talked about their experiences during the launch of the 2010 FIFA World Cup Organising Committee Volunteer Programme in Johannesburg in July.
She told those who have applied to volunteer for the World Cup: "It's an amazing way to meet dynamic, interesting people and a unique opportunity to see South Africa through other people's eyes."
United front
Another volunteer, Ahmed Gora Ebrahim, said the visiting soccer fans saw a nation working together during the Confederations Cup.
Ebrahim is a teacher at a Kyalami Preparatory School. He played professional football for Orlando Pirates in the early 1990s. During the Confederations Cup, he worked as a media volunteer at Ellis Park Stadium in Johannesburg.
Patriotism
Dr Danny Jordaan, 2010 Organising Committee Chief Executive Officer, said the volunteer programme showed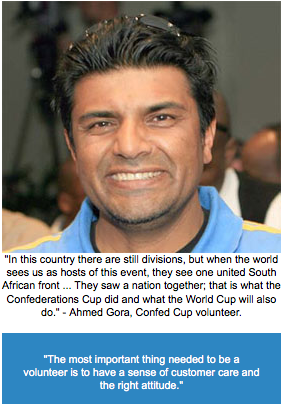 during the Confederations Cup in June that there was a very strong sense of patriotism.
"There are foreign volunteers who want to see South Africa and the African continent succeed. The spirit is unbelievable, it is a common spirit of working together," he said.
He added that it was very important that the Volunteer Programme was launched in July. This was the month when all eyes were on South Africa as millions of people around the world celebrated the 91st birthday of our famous former president, Nelson Mandela.
Inspiration
"Our famous statesman, Mandela himself had been a volunteer-in-chief for 67 years of his adult life fighting for freedom, justice and peace. We therefore draw an inspiration from him as to what it is to be a volunteer and serve fellow mankind," Jordaan said.
The most important thing needed to be a volunteer is to have a sense of customer care and the right attitude, said Ms Onke Mjo, Manager of the 2010 FIFA World Cup Organising Committee Volunteer Programme.
- Mbulelo Baloyi