Sport, arts and culture
South Africa is set for a massive boost in science with the recent announcement that the country – together with eight African partner nations – will host the majority of the Square Kilometre Array (SKA) telescope project.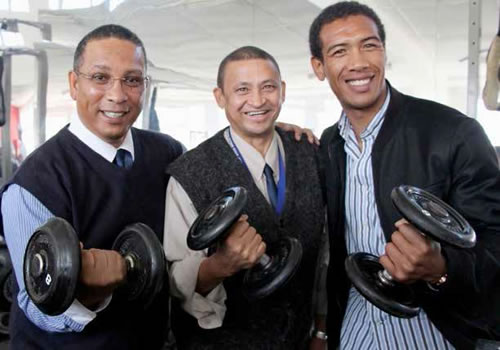 Schoolgoing kids are lining up along- side their parents and grannies to do aerobics, lift weights, run on a treadmill and do bench presses.
This wave of fitness fanaticism sweeping through the community was started by government and gym clubs.
Spearheaded by the provincial Department of Cultural Affairs and Sport (DCAS), together with Virgin Active South Africa and the Greensmile Foundation, the fitness campaign has established a gym at a local high school, built a brand new gym in the community and hosted mass community aerobic sessions.
The campaign is another example of government joining forces with the private sector, as part of the Public Private Partnership, to create better opportunities for communities in need. The fitness campaign is part of Virgin Active's Future Crew project aimed at transforming and creating healthier communities around the country.
A healthy education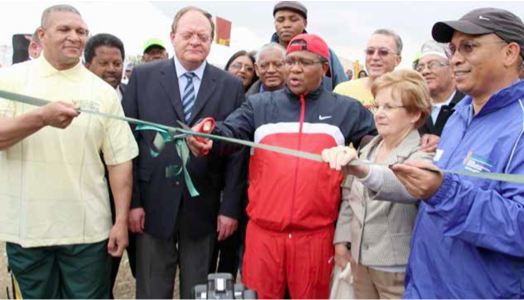 Learners at the Bishop Lavis High School in Cape Town are now more alert in the classroom and pay more attention to their work, thanks to the new gymnasium opened at their school.
Launched by the provincial Minister of Cultural Affairs and Sport Dr Ivan Meyer recently, the new gym gives learners easy access to a quality fitness facility. The overall goal of the school health project is to involve learners in exercise to help them learn new skills and to enable them to participate in a mentoring programme headed by qualified sports and life skill coaches.
The project highlights sport as an integral part of a healthy lifestyle and helps to combat increasing levels of obesity amongst South African youth. "The installation of this gym is a culmination of two years of planning, research and training and an opportunity to invest in the future of our country – our youth," said Ross Faragher-Thomas of Virgin Active.
"Virgin Active has given the learners of Bishop Lavis High School a kick start towards living a healthy lifestyle. The youth have been given an alternative to the social ills that they see around them," said provincial Minister Meyer.
The school also forms part of the Western Cape Government's Mass participation, Opportunity and access, Development and growth (MOD) programme. The programme has to date established 181 MOD centres at schools across the province which provide sport and recreational activities in a safe environment to disadvantaged communities and underprivileged learners.
According to Principal Kevin Sonn, the new fitness approach will also assist his goal of increasing the school's matric pass rate up from 63% in 2012 to 75% in 2013. "This partnership with the school, the department and Virgin Active will provide important support to learners already participating in athletics, cross country, netball, cricket, rugby as well as dance. We believe there is a strong correlation between physical activity and academic performance," said Sonn.
Community gym, a beacon of hope
To extend the fitness campaign to the community, residents of Mitchells Plain are now able to enjoy the fun of exercising with the community's new outdoor gymnasium. Built in Rocklands, Mitchells's Plain, the new gym was recently opened by Sport and Recreation South Africa (SRSA) Minister Fikile Mbalula. The new facility was a joint project by SRSA and the Western Cape provincial department of Cultural Affairs and Sport and the City of Cape Town. The new gym, built by World Outdoor Fitness, uses low-cost equipment which means that it is less likely to be stolen or vandalised.
Provincial Minister Meyer said the new facility would restore hope to the community, defining HOPE as Higher Opportunities for People to Excel.
"This is a great project that will benefit the community, in particular the children, and will instill a sense of pride among residents. This new venture will create a socially inclusive, active and fit community."
To intensify the new fitness campaign, the new gym recently held a mass public aerobics session with over a hundred community members and residents lining up to get fit.
Residents joined along, kitted out in their sports gear, chanting the words "lekker lekker" as they maneuvered between exercises. "It is really nice to see a whole community exercising together. This encouraged them to enjoy the session and at the same time, motivated them to engage in a fun and relaxed type of exercise," said gym official Olivia Carolisen.
Twelve year old Caithlin Prins of Spineview Primary said she felt good after the session. "To exercise with people from my community was fun, it was funny exercising with senior citizens but we enjoyed it," she said.