Lucas Mokone may not have a regular job but the 32-year-old from Orange Farm, Gauteng, is passionate about what he wants to do.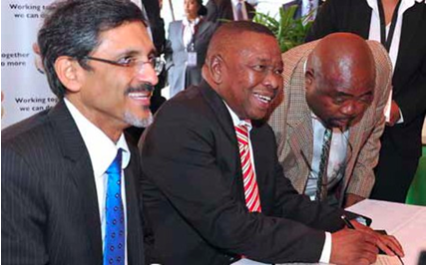 I want to be a firefighter," he said, clutching a bag of brochures and leaflets he obtained at the signing at the Hector Pieterson Museum in Orlando West.
For young people like Mokone, the accord, which was signed recently, holds the promise of a better future, outlining time lines and steps to be taken to get South Africa's youth working.
Mokone has been looking for a job since he finished school in 2005 without much luck.
He is currently a volunteer at the Emergency Management Services in Johannesburg.
He has done a basic Microsoft computer course, completed firefighting courses like Firefighter 1 and Hazmatt and has a public drivers permit but remains unemployed.
The National Youth Service Programme pays him a stipend for the volunteer work he does as a public educator, driver and firefighter.
"The money is just enough for transport and food," he said.
Mokone was one of the scores of youth who witnessed government ministers, trade union officials and leaders of youth formations sign the Youth Employment Accord.
As part of this new plan, government departments will have to increase their intake of interns so that they equal 5 per cent of total employment.
This is to help youth gain the experience often required for employment in the private and public sectors.
State-owned companies will also have to recruit more students from universities and further education and training colleges, who require work experience to complete their studies.
The ultimate aim is to create 5 million new jobs by 2020. This will be achieved by:
Improving and providing training opportunities for school leavers.
Connecting young people to job opportunities.
Increasing the number of young people employed in government entities.
Setting targets for the employment of youth in the infrastructure programme, renewable energy (installing solar water heaters) and business process services (call centres).
Getting the Small Enterprise Finance Agency (Sefa), Small Enterprise Development Agency (Seda) and the Jobs Fund to dedicate more resources to young people who want to set up businesses.
Giving the private sector incentives for employing more young people.
Speaking at the launch of the accord, Deputy President Kgalema Motlanthe hailed the agreement as a major breakthrough in government's drive to empower the youth.
A common understanding among the partners, said Deputy President Motlanthe, is that "more jobs need to be created to en- sure that the total number of South Africans employed is significantly stepped up".
He emphasised that young people would get jobs, not by replacing existing workers, but through an increase in the total number of employed South Africans.
Minister of Economic Development Ebrahim Patel said concrete measures to implement the accord would be announced in the coming months.
President of the Congress of South African Trade Unions (Cosatu) Sdumo Dlamini welcomed the accord, pointing out that the youth make up 63 per cent of the unemployed in South Africa.
Thero Setiloane, the CEO of Business Leadership South Africa, which comprises 84 of the largest businesses operating in the country, said business supported the initiative and would soon announce concrete initiatives to increase the intake of young employees.
Deputy President Motlanthe also announced that the Industrial Development Corporation had set aside R1 billion of its Gro-E funding scheme to provide loans at low interest rates to youth-owned or youth-focused businesses in the next three years.
The Motsepe Foundation pledged R100 million over three years for youth enterprises and a further R100 million for skills development.
Professional services company KPMG is part of the private sector Harambee programme that will place 3 000 young people in entry-level work by the middle of this year, with a target of 10 000 by the end of 2014.
Mokone expressed hope that the accord would help him realise his dream. "Hopefully the accord will make it easier for me to get money to further my studies and get a job," he said.