Abram Onkgopotse Tiro was a South African student activist and black consciousness militant murdered by the apartheid state. He was born in Dinokana, a small village near Zeerust in the North West.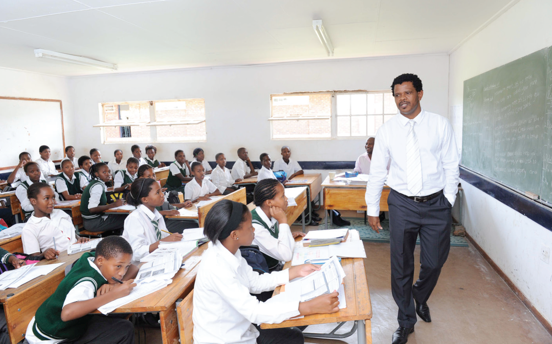 Onkgopotse means "God has remembered me" and some say Tiro will now forever be remembered because of the Onkgopotse Tiro Comprehensive School.
The North West Department of Education opened the school 2004, ensuring that children living in farming communities received an education.
It is one of the many schools built since 1994 to open the doors of education to the previously disadvantaged.
Access to education has improved over the past two decades with more learners attending school than ever before.
In 1996 the South African Schools Act made schooling compulsory for children aged seven to 15.
In 2012 enrolment at primary schools showed that the country had achieved close to universal access for both genders.
Poverty has been a contributing factor to learners not attending school. To tackle this government declared some schools no-fee schools and provides nutritious meals to learners through the School Nutrition Programme. Onkgopotse Tiro Comprehensive School is a no-fee school and also benefits from the School Nutrition Programme.
Learners receive four meals a day and a mobile clinic also visits the school every two weeks to attend to learners' health.
A former military base camp was transformed to give the community Onkgopotse Tiro Comprehensive School.
The school accommodates 1 061 learners from Grades 1 to 12. Of these 661 are day scholars and 400 are boarders.
Teacher Kgonathi is the school's principal. He jokes that his learners call him 'Teacher teacher'.
"The name given to me by my parents is Teacher and I'm a teacher by profession which makes Teacher teacher," he laughs.
"The aim of the school is to provide education to children whose parents are farm workers. This is the vulnerable community who have difficulty accessing education," Kgonathi adds, on a more serious note.
Learners at the school come from the neighbouring farms of Lichtenburg, Zeerust, Setlakgole and Swartkopfontein.
Kgonathi explains that learners who stay some distance from the school live on the school property. For the others, the department provides a school bus.
Onkgopotse Tiro Comprehensive School's first matric learners achieved a disappointing pass rate of just 24 per cent.
Kgonathi was brought in by the department in 2008 to improve on this pass rate and hard work from everyone at the school saw it increase drastically to 100 per cent in 2012 and 2013.
He explains that before the school opened some children from the neighbouring farms did not go to school.
"Some children were working, there was an element of child labour. We still have instances of learners dropping out of school during harvest season and I have to explain to parents that child labour is against the law. I also speak to farm owners reminding them that having children working on farms is a criminal offence."
According to the 1996 Census, enrolment for the five-year-old age group was at 22.5 per cent. This figure increased to 81.2 per cent in the 2011 Census.
As a result of improved infrastructure, a higher proportion of younger children now have access to classroom facilities. South Africa is on track to meet its Millennium Development Goal (MDG) of achieving universal primary education by 2015.
Over eight million learners, approximately 70 per cent of all learners attend no-fee schools.
By providing children with meals at school, the National School Nutrition Programme has contributed to learners' regular attendance and also ensures that they can concentrate in the classroom without worrying about food. Learners at Onkgopotse Tiro Comprehensive School benefit from both the School Nutrition Programme and the no-fee policy. Kgonathi says because of programmes such as these, the lives of the learners at his school have improved since democracy