South Africa is proud of you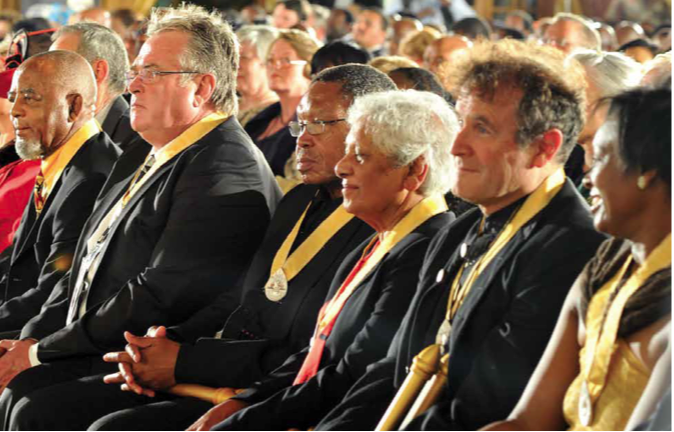 Photo caption: Recipients of National Orders listen attentively to President Jacob Zuma's address during the Awards Ceremony.
When a bus carrying 44 children overturned and fell into a river, Neil John Sharrocks did not think twice. He put aside his own fears and put his own life at risk to save the lives of those children.
On 27 April 2012, Sharrocks was recognised for the selfless act he performed and received the Order of Mendi for Bravery from President Jacob Zuma. He is one of the diverse range of people honoured by President Zuma through the conferring of National Orders.
National Orders are awarded to deserving citizens and eminent foreign nationals who have contributed meaningfully towards making the country a free, democratic and successful nation, united in its diversity.
The awards comprise the Order of Mendi for Bravery, the Order of Ikhamanga, the Order of the Baobab, the Order of Luthuli, the Order of Mapungubwe and the Order of the Companions of OR Tambo.
Speaking at the National Orders Awards Ceremony, President Jacob Zuma said: "We are bestowing honours upon all deserving people and patriotic South Africans, as well as our international friends and compatriots as an important reminder of the history of this country, and its relationship with the international community which waged relentless struggles against apartheid.
"We are honouring all who made a very important contribution to this country and continue to make us proud to be South Africans by making history in their diverse avenues."
In 2010, government made the decision to hold the National Orders Awards Ceremony on Freedom Day in order to align and link them with the country's Freedom Day celebrations, and properly honour all those who have made sacrifices and a meaningful contribution to the country's freedom, at national as well as on the international level.
"We honour all those who were in the forefront of our struggles, who through their political activism, working class leadership guided and inspired our people to be where they are today. We honour and pay tribute to all those gallant fighters who were part of that historic foundation and all those who successfully led the people's struggles to its ultimate destination," said President Zuma.
"These acts have contributed in creating a better life for all, and contributed to nation building, common nationhood and helped us in consolidating our 18-year-old democratic dispensation. This year is no exception," he explained, adding that the country was celebrating people, who, in the definitive show of selflessness and love, risked and lost their lives to save others.
Like Sharrocks, the men and women honoured contributed differently.
Juluka founder, international entertainer and cultural activist "Johnny" Clegg, who received the Order of Ikhamanga was awarded for his excellent contribution to, and achievement in the field of bridging African traditional music with other music forms.
Zane Maureen Wilson who received the Order of the Baobab was awarded for her outstanding contribution as an entrepreneur, mental healthcare practitioner and a leader in the struggle to create awareness of diseases such as depression and anxiety.
Professor Apollon Davidson, who received the Order of the Companions of OR Tambo, was awarded for his exceptional contribution to the struggle for the eradication of apartheid and to the development of a post-apartheid, free and democratic South Africa.
"Today we also honour and award those individuals who have excelled in fields that are less known and less celebrated including aviation, piloting, entrepreneurship, as well as academic fields like research in science and engineering," said President Zuma.