Safety and security
New court brings justice to Bloemhof's doorstep
Sinenhlanhla Mkhwanazi - Department of Justice and Constitutional Development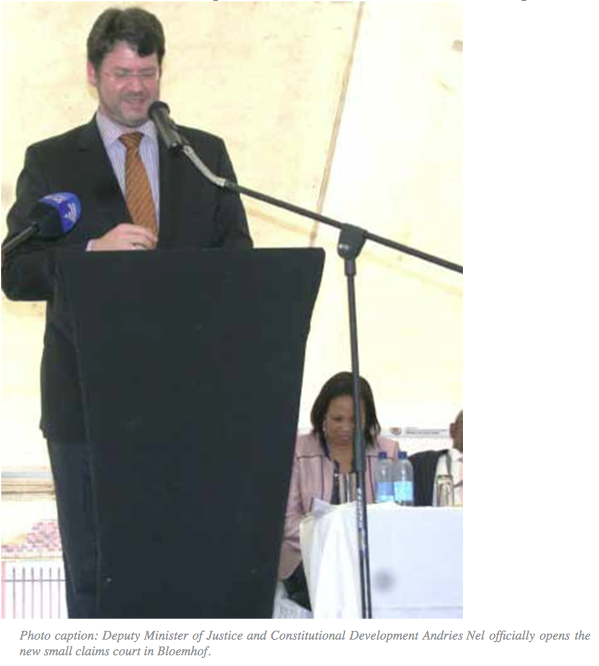 The people of Bloemhof in North West can now settle disputes over money in their own local court. The new small claims court in Bloemhof, which was recently opened by the Deputy Minister of Justice and Constitutional Development Andries Nel, makes it possible for residents to lodge claims of up to R12 000 right on their doorstep.
Eager to welcome the new facility into their midst, community members flocked to the Boitumelong Community Hall to attend the opening ceremony.
The new court is part of the department's commitment to ensure that there is an established and functional small claims court in each of South Africa's 384 magisterial districts. This commitment has been enhanced by last year's renewal of a partnership between the department and the Swiss government worth R10 million over a four-year period.
The right to justice
Addressing the community, North West Regional Head Tsietsi Malema said, "We have a Constitution which clearly indicates that everyone has the right to access jus- tice. Our department is fulfilling that right by launching the Bloemhof Small Claims Court today."
The Deputy Minister echoed these sentiments. "I have been informed by the North West Regional Office that they are earnestly at work to ensure that small claims courts are established in the remaining nine magisterial districts by the end of this year."
He said small claims courts were powerful mechanisms, which provided access to justice, especially to the poor based on speed, simplicity and cost effectiveness
Functions of the court
North West Legal Services Director Raesibe Tladi briefly explained the functions of the small claims court. "Anyone except companies, corporations or associations may institute a claim at the court, but persons under 18 must be assisted by a parent or legal guardian."
He explained that people could only claim an amount not exceeding R12 000 at the small claims court. If the claim exceeded this amount a person could institute a claim for a lesser amount in order to pursue a case in this court.
"You don't need a lawyer to institute a claim in a small claims court, legal assistants and clerks of the court will assist you free of charge. The best part is that you can speak in your own mother tongue in court and we have interpreters to help," Ms Tladi said.
Community members were delighted to hear about these services. One resident, Mr Moliegi Malatji, remarked that it would make life much easier for them. "I have a problem that needs to be resolved at a small claims court and with the opening of this court, I will certainly get assistance."
Small claims courts are powerful mechanism, which provide access to justice, especially to the poor based on speed, simplicity and cost effectiveness.
For more information about small claims courts, call the Department of Justice and Constitutional Development: 012 315 1111 or visit their website: www.justice.gov.za