Winning letter - Use your talents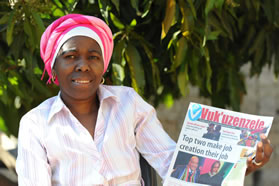 Spring is here and this is the season to start planting seeds. With poverty striking many families, we need to use our free natural resources such as rain and sunshine to eradicate poverty. Laying out a vegetable garden in our backyard is important in more ways than one. Nurturing the plants is one of the most exciting pastimes we can choose as a hobby. Instead of buying vegetables we can grow our own. We can use the money we save to buy other needs for our gardens. By ignoring agriculture we let the money take full control of our lives. Poverty will be easily eradicated if we can produce our own food. Let's make this summer an agricultural season. – Ephenia Moffat, Ga-Rankuwa, Gauteng
We would like to hear from you
If any of the information published in Vuk'uzenzele has helped you in any way to improve your life, we would love to hear from you. Don't forget to include your telephone or cellphone number and address.
Thank you Vuk'uzenzele
Firstly, I would like to say thank you for bringing the free paper to our homes. In August I found the Vuk'uzenzele news- paper at Maggies tuck shop at Ga-Rankuwa. I turned to page 10 were there is bursaries, I read and read. Wow interesting. Turn again to page 3 - Priority: health. It was about more than 11 million people tested for HIV. After reading the story, I visited Phedisong Clinic and I am now one of millions of people who tested for HIV. I love your paper. Vuk'uzenzele, you are really helping people and I am proud to be South African.
– Peter Mathunya, Ga-Rankuwa, Gauteng
Pollution is a man-made killer
Our environment is in danger. We abuse the planet by polluting it with litter and poisonous substances. Pollution is the harmful effect that such substances have on the environment. This includes all waste material like household refuse, and industrial waste products. It is also things like insecticides and radioactive waste.
To address this issue, we can create awareness and highlight what communities can do to combat pollution. We should discourage littering. Smokers should not flick cigarette butts in the air; they can start veld fires. Pollution is harmful to all living beings and its results can cause disease. You can do your bit to solve our country's pollution problem.
– Ezekiel Radebe, Heilbron, Free State
Contact centres for youth development
Contact centres can be great tools to develop the skills of the youth. To make the best career choice, you need to understand yourself and know what you want in life.  Professional counsellors can give mentorship and advice. Through contact centres, job seekers can be exposed to job opportunities.
Volunteering is also a good way to develop skills and gain work experience. We can learn from and/or collaborate with other organisations and businesses to create forums that will benefit communities. More contact centres should be established to create jobs, and therefore, overcome poverty. 
– Angela van der Merwe,Skilpadfontein, Mpumalanga
Send your letters to:
Vuk'uzenzele, Private Bag X745, Pretoria, 0001, or e-mail: vukuzenzele@gcis.gov.za.
If you don't want your real name published you may use a different name, but please include your real name and address.
Please note:
To win a prize you must include a physical address and a contact telephone number.
Prizes that re not claimed within 90 days of publication, will be forfeited.