If you think South Africa has documented enough stories and films about the torturing and killings of citizens under the apartheid regime, you are mistaken. There is more the public needs to know about.
One story that needs telling is that of the freedom fighters who became double agents and deadly assassins for the infamous Vlakplaas death squad. Their story is told in Askari, which runs at the South African State Theatre from 27 September to 16 October.
Vlakplaas is a farm located 20 kilometres west of Pretoria that served as the headquarters of the notorious South African Police Security Branch's C1 unit.
Director and co-writer Sello Maseko drew inspiration for the theatre production in 2019 when he was invited to be part of a delegation that visited Vlakplaas.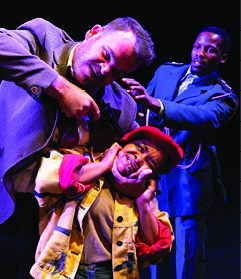 He says that 40 years ago, many atrocities took place at the farm. Anti-apartheid activists were brutally tortured there and Vlakplaas was filled with pain, fear, misery, uncertainty and death.
The play honours those heroes and heroines who perished in the torture chambers of Vlakplaas, says Maseko.
Askari tells the story of the men and women who infiltrated organised civic movements and student organisations to recruit unsuspecting youth and influential leaders.
"It interrogates the decisions that led to their choice of turning from insurgents to counter-insurgents, from community activists to mass killers. It digs deep into the personal accounts of these individuals, who administered pain, fear and death," says Maseko.
Themes of betrayal and death, redemption and forgiveness are told through dance, music and powerful storytelling.
As a historian and storyteller, Maseko saw fit to make this contribution to the truth and reconciliation process to help communities heal and move on.
"The story of foot soldiers of apartheid whose job description was to kill needed to be told, and I had to be the one telling it," he says.
Askari was nominated for Best Script and Choreography in the 2022 Naledi Theatre Awards. It made its stage debut last year at the South African State Theatre. The production was filmed at the time and later screened at selected Ster-Kinekor venues.
Tickets are available at Webtickets: www.webtickets.co.za