President Jacob Zuma has described the mini summit of the Inte r national Conference of the African Great Lakes Region (ICGLR), which he attended in Angola recently, as a positive and constructive engagement.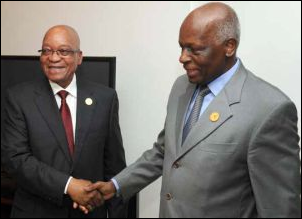 The summit was successful and we have registered positive progress since the previous ICGLR ordinary summit in January 2014. We have discussed and reviewed in detail the overall security situation prevailing in the Great Lakes Region and in Southern Africa and have agreed on necessary measures," the President said.
The summit discussed and agreed on various critical security issues affecting particularly the Democratic Republic of Congo (DRC) and the entire Great Lakes Region.
South Africa, as a signatory to the Peace, Security and Cooperation Framework for the DRC and a member of the Regional Oversight Mechanism, has echoed its support to the efforts of the ICGLR at seeking a lasting political solution in the Great Lakes Region. This is in line with SA's foreign policy, which promotes a peaceful resolution of conflicts and discourages unconstitutional changes of government.
The relations between South Africa and the Republic of Rwanda were also discussed at the summit, which was also attended by Rwandan President Paul Kagame.
President Zuma was accompanied by Minister of Defence and Military Veterans Nosiviwe Mapisa-Nqakula and Minister of State Security Siyabonga Cwele.