International relations
President Jacob Zuma has described his state visit to Ghana as a great success that has enhanced bilateral relations between the two countries.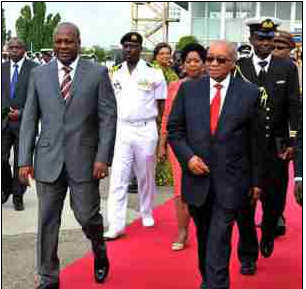 "It was a very successful visit and it has yielded very important results which will see our bilateral relations moving to a higher level. We had high level bilateral talks with President [John Dramani] Mahama and agreed on various issues and we are pleased with the substantial progress that has been made in strengthening bilateral cooperation," said the President on his return to South Africa.
Two Memoranda of Understanding regarding transport, energy and the Bilateral Air Services Agreement were signed during the visit.
"Agreements were signed which highlight the level of cooperation between our two countries and we have agreed that these instruments should translate into concrete projects that will benefit our people and further promote our economic relations," said President Zuma.
According to the Presidency, Ghana is a major export market for South African goods with investors from South Africa active in the mining, retail, insurance, transport, tourism, banking, telecommunications, construction, services, franchising, manufacturing, fishing, advertising, aviation and energy sectors of Ghana.
Both President Zuma and President Mahama encouraged the business sector to take advantage of the two countries' cordial bilateral relations to enhance trade and investment as both countries were open for business and investments.
The talks between the two Presidents included regional, continental and global issues. South Africa and Ghana share common views with regard to the maintenance of peace, security and stability on the African continent, the need for greater intra-African trade, industrialisation of the African continent and reform of global institutions of governance such as United Nations Security Council.