From infrastructure to education, health and job creation, government has a good story to tell, President Jacob Zuma has told residents of Port Elizabeth in the Eastern Cape.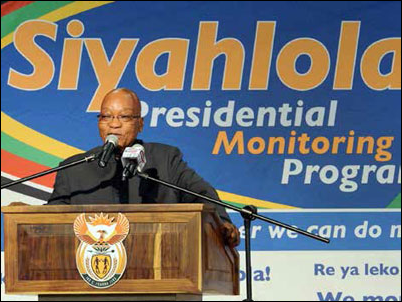 "We have our challenges but we also have our successes. We have made inroads in changing the lives of our people and developments here in the Eastern Cape are a proof of the work that all spheres of government have been doing," President Zuma said during a Siyahlola Presidential Monitoring visit.
The President runs the Siyahlola Presidential Monitoring Programme through which he assesses the performance of government at national, provincial and local levels.
During his visit before the 7 May elections, he was accompanied by at least seven Cabinet members.
Last year, national government began providing support to the Nelson Mandela Bay Municipality to improve governance systems. The then Finance Minister Pravin Gordhan and then Cooperative Governance and Traditional Affairs Minister Lechesa Tsenoli met with the municipal leadership in August last year and agreed on a set of short term support measures.
The President's recent activities in the Eastern Cape also included meetings with provincial and local government leaders, the business sector and civil society.
Job creation
The then Eastern Cape Premier Noxolo Kievet told President Zuma that more than 5 000 jobs were created at the Port of Ngqura alone.
In 2012, President Zuma officially opened the Port of Ngqura and it has since become Africa's premier trans-shipment hub, linking the world's east and west trade routes. The port recently overtook Cape Town as the second busiest container terminal in Africa. It will be further developed in the next few years and more jobs will be created.
Health
President Zuma also heard that the Eastern Cape Department of Health had over the past five years renovated hospitals and built new clinics. This included the revitalisation of Cecilia Makiwane Hospital in East London.
More than 600 nurses were trained by the Ilitha College, while R32 million was spent on a rehabilitation centre situated in Port Elizabeth's KwaDwesi township.
Investments
The Department of Trade and Industry spent more than R1 billion in investment incentive schemes in the Eastern Cape over the past three years. Minister Rob Davies said these were aimed at encouraging investments in the automotive sector and the Coega Industrial Development Zone (IDZ).
Government also committed its support local manufacturing through policy initiatives such as the New Growth Path. As a result of this commitment, companies like Aspen Pharmacare expanded its operations in the Eastern Cape.
Investor confidence in the Coega IDZ, which is South Africa's biggest IDZ, has continued to grow, with six new investors committing to the IDZ in the second half of 2012 and new investments injecting R1.7 billion into the Eastern Cape economy in 2012/13.
The President promised to return to the Eastern Cape to listen to the community's concerns about service delivery.