When the Minister of Social Development Bathabile Dlamini delivered her Budget Vote earlier this year, she declared the 2014/15 as the year to protect the rights of people with disabilities.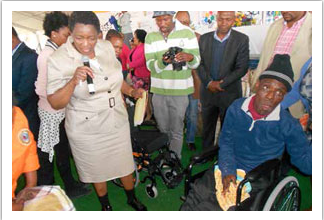 The department is also on a mission to help child-and youth- headed houses, support victims of violence, and handing a lifeline to millions of South Africans through social grants.
Vuk'uzenzele looks at some of the department's highlights and programmes.
Protecting the rights of people with disabilities
Minister Dlamini has appointed a committee to tackle the human rights challenges facing people with disabilities in the country.
The newly appointed committee will consist of representatives from organisations representing people with disabilities, such as the Department of Social Development (DSD), South African Social Security Agency (SASSA) officials, the National Development Agency and the South African National NGO Coalition.
The committee will address the lack of services to children and older persons with disabilities, as well as the abuse of adoption and fostering of children with disabilities. Social and healthcare workers will also be empowered to deal with disability issues, challenges facing employees with disabilities and the improvement of the grant payment biometric system to accommodate people with disabilities.
Taking care of orphaned children
With regard to caring for orphaned children, Minister Dlamini launched the Child- and Youth-Headed Household Register that offers social welfare, social security services, and other government services to orphaned children.
At the Msinga Local Municipality in Kwa-Zulu- Natal, where the programme was launched, 21 child- and youth-care workers have been trained and deployed to work with child- and youth-headed households, while an additional 85 are being trained.
"When youth siblings lose their parents some choose the route of foster care and others opt to stay together as a family. This must be respected and government's duty is to give them the necessary support to continue living normal and productive lives," said Minister Dlamini.
The Child- and Youth-Headed Household Register is expected to play an important role helping provide this support.
Even though the register is in its early stages, Minister Dlamini committed to using it to establish a forum of child- and youth-headed households that will meet at least once a year as a platform for continuous feedback from the households.
Promoting children's rights
The DSD has also partnered with the United States Agency for International Development (USAID) to promote, advance and protect the rights of children.
"By entering into this partnership with USAID – through which they will assist us to strengthen our monitoring, evaluation and data management, improve integrated and coordinated services to orphaned and vulnerable children… It is only through such efforts and partnerships that a more coordinated and integrated response for better outcomes for orphans, vulnerable children and youth can be obtained."
Support for gender-based violence victims
Minister Dlamini also launched the National Gender-Based Violence Command Centre.
The 24-hour call centre provides support and counselling to victims of gender-based violence.
It aims to provide immediate psychological help and referral to victims affected by gender-based violence and helps them avoid additional exposure to violence.
By calling the toll free number callers will be able to speak to a social worker for help and counselling.
Seventy-five qualified social workers have been employed to serve on the command centre.

To speak to a social worker for assistance and counselling, call the Gender-Based Violence Command Centre toll free on: 0800 428 428 (0800 GBV GBV ). Callers can also request a social worker from the command centre to  contact them by dialling *120*7867# (free) from any cellphone.