'Fighting for your dream no matter what,' is the motto Zoliswa Gila lived by for most of her life. It is because of this attitude that she is now the only female crane operator working on the construction of the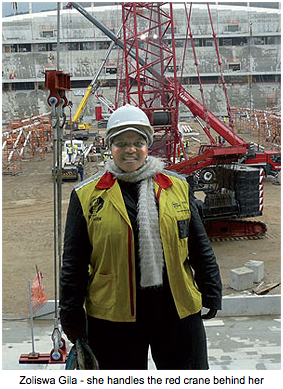 2010 Green Point Stadium in Cape Town.
Gila, a 32-year old mother and wife, is the sole breadwinner for a household of six people. She operates one of the main cranes, which is 90 metres high, at the Green Point Stadium in Cape Town.
Dream job
Gila's dream was to become a pilot, but she couldn't afford the training. Her second option was to become a crane operator. "Being an operator allows me to be high in the sky. I'm just one step away from flying a plane."
Gila was unemployed for four years and things were very tough. She got her lucky break when WBHO, a major construction company, started looking for people to train in the industry. She applied without hesitation...after all it was her second dream job.
Only woman
"Many people applied, but the course was so tough that in the end there were only six women and 14 men. After one month and two weeks of training, I was the only woman who passed," Gila said. She's not scared of climbing the crane at all and loves being high in the sky. For her, it feels like being in a helicopter. "I have the best view of Cape Town." But being a crane operator is very difficult. You must be very responsible and know what you are doing, because your negligence could end up causing someone's death," she said.
Gila starts work at 7 o'clock in the morning and sometimes only finishes at 8 o'clock or 11 o'clock at night. She works overtime to make enough money to survive every month.
Respect
When she started working at Green Point Stadium in July 2007, some men were rude and didn't want to work with her. "They said I would kill them because I didn't know how to operate the crane." Instead of being put off, she decided to work even harder. Without any incident or accidents on her record she won their respect.
She loves her job and is proud to be on the 2010 team. "I'm so proud of myself for getting this far. I can't wait to see the completed job so that I can point my finger
Hard work
Gila has not given up on her dream to become a pilot and will continue working towards it. "I will fight until that dream comes true," she said.
Her advice to people from disadvantaged communities is: "stand up, don't beg, work hard and your dreams will come true. Sometimes people will try to stop you or make you feel like you are not good enough, but you are!"
- Staff Reporter