In the previous edition of Vuk'uzenzele, we began sounding a call to all our communities to work with government and emergency services to minimise the incidents associated with the December holiday season.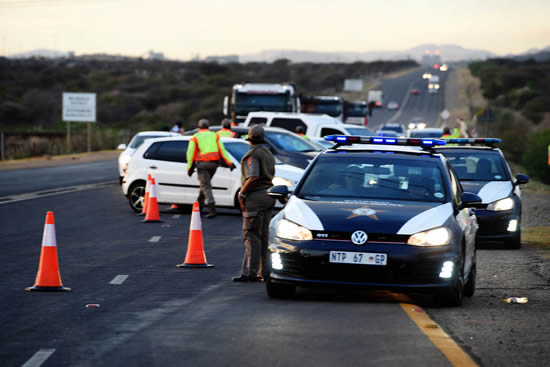 In particular around this time, our country sees a marked increase in road accidents, crime, drowning, injuries as well as deaths, particularly on our roads.  This period is generally one of the busiest for our emergency and law enforcement agencies. We have therefore directed our road traffic officers and police to step up safety operations to ensure that people are safe everywhere in South Africa.
Our law enforcement teams will be visible and in full force during the festive season. There will be zero tolerance for road users who drive recklessly or are negligent and drive at excessive speeds. Mobile testing stations will be placed at strategic points to test the roadworthiness of vehicles travelling to major destinations.
In addition, there will be highly visible traffic law enforcement patrols on all known hazardous routes, while roving law enforcement operations in hotspots including built-up areas such as suburbs, townships and villages will be carried out.
Government will be undertaking these extra measures because we know that irresponsible and reckless driving destroys lives and road fatalities are a major concern.
Every year 1,3 million people die world wide  as results of road accidents, with people between the ages of 20 and 34 constituting the majority of the fatalities. The South African Government is therefore steadfast in its commitment to reduce road fatalities this season which remain unacceptably high.
We would like to once again appeal to all our road users to be considerate and save lives by being alert and do not drive recklessly. We urge you to ensure that your vehicle is roadworthy and obey the rules of the road at all times. Roadworthy vehicles mean safer journeys and it is important that you undertake a pre-trip inspection of the vehicle before embarking on a journey.
Let us make road safety everyone's business. We call on South Africans to take responsibility for themselves and others while driving. We also call on road users to report those who drive recklessly and dangerously.
By working together we can ensure that our roads are safer for all.  All passengers should wear seatbelts and children must be put in child restraints or child seats. Government is also committed to getting our youth involved in ensuring safer roads as we believe that road safety education from an early age is essential in turning the tide against road carnage.
Let us together make our roads safer this festive season, and protect our lives and those of other road users.
I wish you and your families a happy and safe festive season, filled with warmth, laughter and good memories.  
May you also have a Merry Christmas and a Happy New Year!
Did you know
Global trends show that up to 1,3 million people die on the roads each year with young people between the ages of 20 and 34 constituting the majority of fatalities