Whilst South Africa has the largest HIV epidemic in the world, with about 19 percent of the global number of people living with HIV, 15 percent of new infections and 11 percent of Aids-related deaths, it also has the largest treatment programme in the world, accounting for 20 percent of people on antiretroviral therapy globally.
The country also has one of the largest domestically funded programmes, with about 80 percent of the Aids response funded by the government. Below is a timeline of significant developments in South Africa's fight against HIV/Aids over the years.
1983: First case of Aids diagnosed in South Africa and the first aids-related death.
1985: First advisory group for Aids was established by governme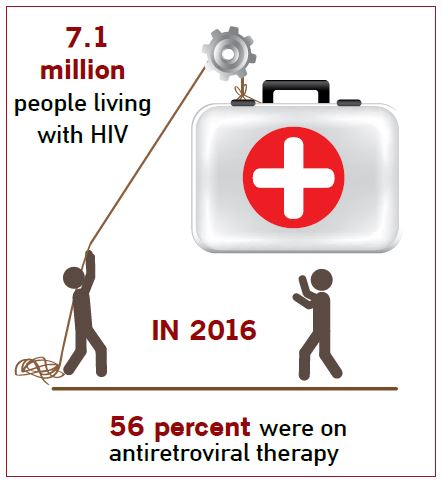 nt.
1990: First national antenatal survey revealed that 0.8 percent of pregnant women were infected with HIV.
1993: HIV prevalence in pregnant women rose to 4.3 percent. The number of HIV infections recorded rose by 60 percent within two years. The numbers were predicted to double.
1996: Three percent of the population was infected.
1997: The health department endorsed the controversial drug Virodene.
2000: The Department of Health rolled out the first five-year National Strategic Plan (NSP) to fight sexually transmitted diseases (STIs), Tuberculosis (TB) and HIV/Aids. To supervise the process, the South African National Aids Council (SANAC) was established.
2001: Government fought with pharmaceutical companies to allow for less expensive and locally-produced anti-retroviral drugs.
2002: Transmission prevention drugs became available to pregnant women by order of the High Court.
2003: Plans to make anti-retroviral treatment available readily and publicly was approved.
2004: Government introduced free anti-retroviral (ARV) therapy. Since then, the number of South Africans receiving ARV treatment has risen rapidly and new infections among adolescents have steadily decreased.
2007: SANAC finalised the second five-year NSP.
2008: Thabo Mbeki resigned as South African President and his successor, Kgalema Motlanthe, appointed Barbara Hogan as Minister of Health. She immediately committed government to a concerted and decisive response to the epidemic.
2012: SANAC's third NSP (2012 to 2016) massively scaled up South Africa's anti-retroviral treatment programme and reduced the number of mother-to-child transmission rate to 1.5 percent. From 2012 to 2017, HIV incidence decreased by 44 percent.
2013: Minister of Health, Dr Aaron Motsoaledi, introduces the fixed-dose combination (FDC) antiretroviral drugs (ARVs) also known as the single dose. The single pill is taken once a day instead of three to five pills a day.
2016: There were 7.1 million people living with HIV, of which 56 percent were on antiretroviral therapy.
2016 to 2017: New infections amongst adolescent girls and young women decreased from 2 000 per week in 2016 to 1 300 per week in 2017, and 67 percent of men between 15 and 24 were reported to be medically circumcised.
2017 to 2022: The fourth NSP aims to accelerate progress towards meeting fast-track targets by reducing new HIV infections; improving treatment, care and support; reaching key and vulnerable populations; and addressing the social and structural drivers of HIV, TB and STIs.