South Africa has been praised globally for the strides it has made in dealing with HIV/AIDS.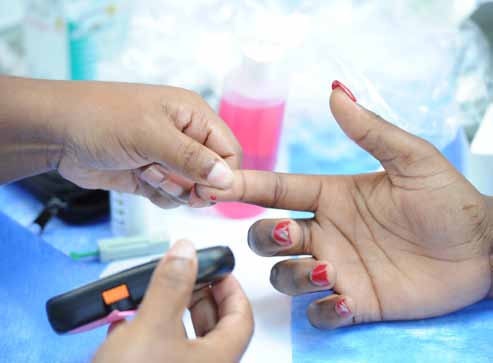 Recently UNAIDS - the Joint United Nations Programme on HIV/AIDS – executive director Michel Sidibé congratulated President Jacob Zuma and the country for its successes in fi HIV/AIDS.
"President Zuma has completely changed the face of the epidemic through his leadership. South Africa has managed to put 1.9 million people on treatment, more than 15 mil- lion people have tested for HIV and the price of medicine has dropped by more than 53 per cent. South Africa is on the way to eliminate mother-to-child transmission by 2015. President Zuma's leadership is a model for others," said Sidibé.
In response, President Zuma said the country had moved from the difficult times of the past to a success story in a short space of time.
He said there was a decrease in the rate of new infections from 1.4 per cent to 0.8 per cent in the 15 to 24 age group.
But government has not always been popular for its handling of HIV/AIDS and has come a long way from the 2000 – 2004 period, when its relations with AIDS activists were strained.
From 1994 to 2004, government's HIV/AIDS policy promoted prevention and treatment but messages tended to emphasise the importance of a healthy lifestyle as a way of dealing with the epidemic. Antiretroviral (ARV) treatment was, for the most part, scarce at public facilities.
The turning point came in 2005 when government said it would provide ARV treatment in the public sector and then developed policy to achieve this.
The decisive moment came in 2009, when President Zuma announced in his World Aids Day speech that with effect from April 2010:
All children under the age of one would get treatment if they tested positive and ARV treatment would not depend on the CD4 count.
All patients with both tuberculosis (TB) and HIV would get ARV treatment if their CD4 count was 350 or less.
All pregnant HIV-positive women with a CD4 count of 350, less than 200 or with symptoms, regardless of their CD4 count, would have access to treatment.
All other HIV-positive pregnant women not falling into this category were to be put on treatment at fourteen weeks of pregnancy to protect the baby. In the past treatment only started during the last term of pregnancy.
Providing ARV treatment
With that announcement and subsequent actions, the country took a huge step towards achieving the target of the United Nation's Millennium Development Goals for 2015.
These include reducing the sexual transmission of HIV and new HIV infections, eliminating new HIV infections in children, providing ARV treatment to 15 million people and reducing TB-related AIDS deaths by 50 per cent.
According to the Department of Health's progress report on the implementation plan for 2009 to 2014, a total of 1.9 million people were receiving ARVs by 2012.
In the 2009 the Department of Health un- veiled the HIV Counselling and Testing (HCT) campaign, which was to be the cornerstone of the prevention and early entry into ARVs.
With HCT campaign, it became the health sector's responsibility to offer HIV testing and counselling to every one who makes use of health services.
Previously the Voluntary Testing and Counselling campaign encouraged citizens to test voluntarily.
The department's progress report also notes that in the past only 2 million people on aver- age would accept voluntary HIV counselling and undergo HIV testing every year.
The HCT campaign reached a total of 15 mil- lion people between April 2010 and June 2011. As of December 2012, 20.2 million people had been tested.
Male circumcision
By encouraging leaders in all spheres of society to test, the campaign also aimed to reduce the stigma associated with HIV.
As part of the campaign, government also offered male circumcision and some 619 000 males took up the offer.
The HCT campaign also treats HIV and TB under one umbrella, with the TB cure rate in South Africa passing the 70 per cent mark for the first time in 2010/11, reaching 71.1 per cent. It has since increased to 73.1 per cent in 2011/12.
The number of HIV patients screened for TB has significantly improved and currently nearly all HIV patients are screened for TB.
These achievements resulted from a combination of interventions such as the use of new Genexpert technology, which improved the TB testing and was introduced in 2011.
The progress report shows that from March 2011 to February 2012, South Africa conducted almost 300 000 Genexpert tests.
The report also indicates that the rate of infection of mother-to-child transmission has dropped from eight per cent in 2008 to 3.5 per cent in 2010 and 2.7 percent in 2011.
There was more good news recently, when department announced the introduction of a single dose of the triple combination of tenofovir, entricitabine and efavirenz for people on ARV treatment, expected to start from April this year.
The new drug will enable people living with HIV to take only one pill a day, instead of three, to maintain their health.