The Lesotho Highlands Water Project is providing much-needed water to South Africa and developing infrastructure and generating energy in Lesotho.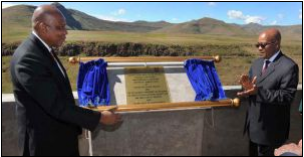 This is a win-win situation for both countries, says President Jacob Zuma. Speaking at the sod-turning ceremony for phase two of the project in Maseru, Lesotho, President Zuma said the project had massive benefits for both countries.
In operation for over 20 years, the Lesotho Highlands Water Project supplies South Africa with about 780 million cubic metres of water a year.
When fully operational, phase two of the project will significantly increase the volume of water supplied to South Africa. Phase one of the project, which was funded by the World Bank, was completed in 2004.
The project has provided Lesotho with a number of benefits, the President noted. "There has been benefits of infrastructure development during phase one which include 102km of paved roads, 265km of gravel roads, 1 133km of roads rehabilitated to grade 1 standard, 11 bridges built including three bridges between Lesotho and South Africa in Maseru, Maputsoe and Caledonspoort," President Zuma said.
The benefits also include 299km of power lines, staff housing for about 300 workers as well as hydro-electricity generation es- Lesotho's King Letsie III and President Jacob Zuma launch phase two of the Lesotho Highlands Water Project in Maseru, Lesotho. timated at 72 megawatts.
The building of the Metolong Dam, to which South Africa contributed R50 million, also meets the water needs of the Kingdom of Lesotho, the President said, adding that Lesotho had also gained a village and an Information Centre at Metolong.
President Zuma said the benefits to South Africa were also huge.
"The country gains high quality water transfers and job opportunities. There is improved infrastructure in Clarens, Fouriesburg, Ficksburg and Ladybrand in the form of new border crossings and improved amenities, community halls, clinics, houses and improved rail facilities such as in Ficksburg," he said.
The purpose of the project is to provide Lesotho with a source of income in exchange for providing water to the central Gauteng province, where most industrial and mining activity occurs in South Africa, as well as to generate power for Lesotho. South African companies have a significant presence in Lesotho and are involved in sectors such as housing, food and beverages, construction, retail, hotels and leisure, banking and medical services.
Meanwhile, closer to home, Water and Environmental Affairs Deputy Minister Rejoice Mabudafhasi officially handed over the R163 million Christiana/ Hertzogville Phase One Bulk Water Infrastructure project in Hertzogville in the Free State.
About 10 000 community members are expected to benefit from the project. Residents will no longer have to walk long distances to fetch water.
Water is being extracted from the Vaal River near Christiana in the North West with a pipeline running 45km between Christiana and Hertzogville.
It flows to a nearby pump station and then into a dam, where it is purified. The Deputy Minister said the department was working with the Department of Cooperative Governance and Traditional Affairs, the Lejweleputswa District and Tokologo Local Municipalities to ensure completion of phase two of the project.
"Phase two is aimed at eradicating water backlogs for Tokologo Local Municipality communities. It will provide water services to over 9 409 people within the service area," said Deputy Minister Mabudafhasi.
The Lesotho Highlands Water Project and Christiana/Hertzogville Water Infrastructure project highlight government's efforts to provide water to South Africans.
According to the Twenty Year Review released by the Presidency, the country has met its Millennium Development Goal (MDG) – to halve the proportion of the population without sustainable drinking water – in 2008, ahead of the 2015 deadline.
Access to a basic level of water increased from just over 60 per cent of households in 1994/95 to over 95 per cent of households in 2011/12