International relations
South Africa and Mozambique's port authorities, the Transnet National Ports Authority and Maputo Ports Development Company, have signed a landmark memorandum of understanding paving the way for increased cooperation.
The signing of the memorandum of understanding (MoU) follows extensive talks and visits over an extended period of time.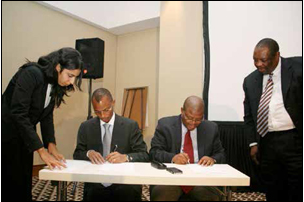 Speaking at the signing ceremony in Johannesburg recently, Transnet National Ports Authority (TNPA) chief executive Tau Morwe, said the MoU opened the way for collaboration in infrastructure development, engineering, training and marine services.
"We believe that in the spirit of cooperation, we can be exponentially more efficient and play a key role in lifting intra-regional trade within the Southern African Development Community (SADC) region from its current level of 12 percent," Morwe said.
"What we can achieve remains to be seen, but we should aspire to achieve the figures of other leading regional economic communities, such as those of Asia and Europe, where intra-regional trade is in the region of 60 percent."
Maputo Ports Development Company (MPDC) CEO Osorio Lucas said the MoU represented major potential for the two countries. "It is an important step toward, fostering greater intra-regional cooperation, which is a key priority of the SADC region and the Common Market of Eastern and Southern Africa (Comesa)," Lucas said. - SAnews.gov.za