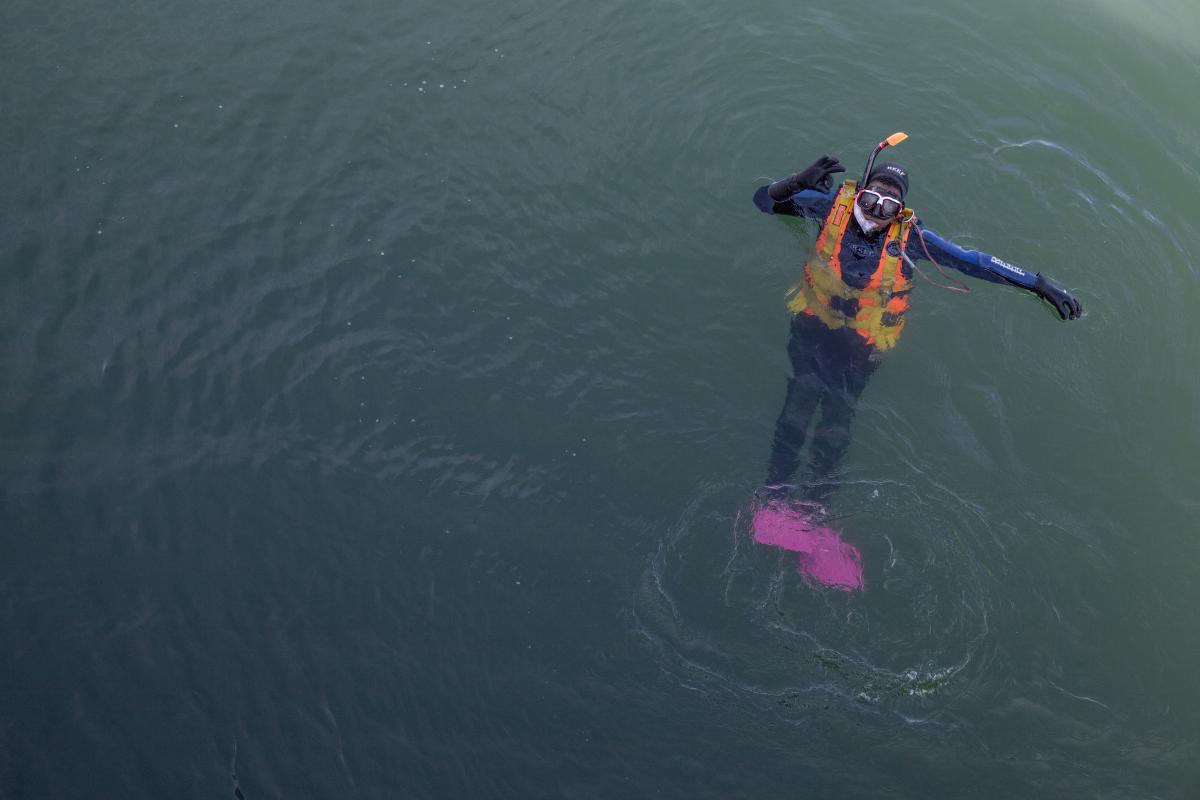 Transnet National Ports Authority (TNPA) acting civil diver Makhosazana Sengo is holding her own in a male-dominated world.
She is trailblazing a path for other women to follow, while staring down gender stereotyping and ocean predators at the same time.
As one of only two female divers to have ever worked for the TNPA and the only female diver currently in its employ, Sengo is well versed in overcoming adversity to achieve her goals. 
Coming nose to snout with a great white shark would be enough to turn most people away from a diving career – but not Sengo. "In that moment I was very scared and traumatised, but I overcame my fear by descending again.
Now, I am so used to seeing sharks during dives," Sengo said.
"I knew from the beginning that I had to think about the risks involved in this position. I had to be aware that there were a lot of dangers in this job. I also knew that I was entering a very male-dominated environment and I had to overcome all of this so that I could pursue my dream," she added. 
From street vendor to diver
Sengo started her diving career at the Port of Richards Bay in 2011, as a diver attendant, but her links to the port go deeper than her diving tenure alone.  
Prior to discovering her passion to dive, the Mtubatuba resident was well-known as an arts and crafts vendor stationed on the quayside. She supported her family by selling her bead-work and soft stone sculptures to Richards Bay tourists.
Her desire to learn more about the ocean came from the celebrated – former South African Paralympian, Natalie du Toit.
"Here was this woman, who faced so many hardships and was winning gold medals, and I wondered what it was that was stopping me from learning how to swim?"
Sengo began lessons and after achieving her swimming stripes embarked on a lifeguarding course, which led to her earning a sponsorship from the UK-based Professional Association of Diving Instructors (PADI) to participate in a Recreational Diving Course. It was then that her journey towards becoming a professional diver gained traction.
"While I was participating in lifesaving training, I already felt like I wanted to explore the underwater world. It triggered something inside me that told me I was going to be a diver and was going to explore the beauty of the sea and sea life," she said. 
What does a Transnet civil diver do?
As an acting civil diver, Sengo's duties include working underwater with technical surface supply equipment; conducting underwater welding, cutting and grinding; underwater quay wall inspection and repairs; underwater maintenance of marine crafts and inspections, using subsea project equipment; general inspections and underwater photography; and participating in surface quay wall furniture maintenance. 
"My work environment is never the same, it changes every day. Each day I learn something new and that's the exciting part of my job," she said. 
Sengo has Open Water Diver, Advanced Diver and Rescue Diver qualifications under her belt and earlier this year she participated in and passed a two-month Class 3 and 4 Inshore Civil Diver training programme with Seadog Commercial Diving in Saldanha Bay. 
The mother of one is not content with being idle now that she has broken through the door of one profession. She is already working towards a degree in Civil Engineering and plans to pursue training as a Class 2 and diver medical technician.
Sengo is aware that her role at the TNPA turns the spotlight on the lack of women in the profession, but wants her journey to serve as inspiration to other young women to follow in her footsteps.
"You need to be passionate about something in your life, to dream big and believe in yourself. I want to guide everyone who needs my help. I was scared in the beginning, but I overcame all of my fears and I am reaching my goals one by one," she said.